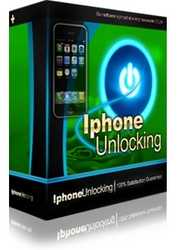 (PRWEB) November 2, 2010
Unlocking a mobile phone has become a trend among handset users. This is because cell phone unlocking permits use of dual, tri or quad band capabilities. An unlocked mobile can also accommodate two different network SIM cards, while being completely free of restrictions. Unlocking a cell phone is a legal process and can expand the usability of the device.
As a leader in the iPhone unlocking service globally, iPhone Unlocking Ltd. is pleased to announce the release of its unlock iPhone 4 4.1 software that has been updated recently on November 1st, 2010.
Through its website, iPhoneUnlocking.com, the company reveals that its software can unlock iPhone 4 4.1, iPhone 3G/3GS 4.1, and jailbreak iPhone 4.1 and iPhone 3G/3Gs 4.1, while enabling video chat on 3G/3Gs iPhones. This also allows the iPhone to have Flash and Cydia applications installed. Providing GPS Navigation application for free, this software can be used on any GSM SIM card worldwide and is compatible with the latest baseband, while guaranteeing zero loss of features or functionality and charging zero on roaming for calling from overseas. Moreover, customers will be able to avail of lifetime updates and support, upon purchase of this software.
The iPhoneUnlocking.com software guarantees extreme ease of use. Along with the product is an illustrated guide that show exactly how to unlock an iPhone. The whole process is said to take approximately 5 minutes.
Matt from the United States, enthuses about iPhoneUnlocking.com: "Many thanks for your support! Bought my iPhone from the Apple store, brought it home, downloaded your software and had my SIM working in minutes. Your software is fantastic and very user friendly and I have recommended it to friends already!"
iPhoneUnlocking.com's software has been downloaded by over 1,000,000 customers located in over 145 countries. To further ensure customers of its product's usability, iPhoneUnlocking.com offers a 100% full money back guarantee on all orders. Customers dissatisfied with the company's product will be given a full refund, no questions asked.
iPhoneUnlocking.com offers outstanding customer service, by offering many forms of 24/7 support that include email, phone and live chat.
Need software to unlock your iPhone? Check out iPhone Unlocking LTD now.
###