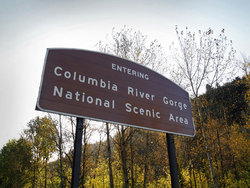 Tonight's event and positive responses are reassuring our belief that the area was ready for a quality, short-stay destination
Stevenson, WA (Vocus) November 2, 2010
One year after breaking ground on complete renovations, The Resort at Skamania Coves recently opened the doors to two, newly remodeled houses and two condominiums. The project is completed in 'Cascadian Craftsman' motif and available for nightly and weekly rental. To mark the occasion, the Skamania County Chamber of Commerce sponsored a Grand Opening celebration event which was held at the resort as part of the Chamber's 'Business After Hours' networking event series. With over 150 people from around the Stevenson, Washington area in attendance, comments of shock, awe and amazement could be overheard throughout the night's festivities.
"Tonight's event and positive responses are reassuring our belief that the area was ready for a quality, short-stay destination" said Scott Lonsway, project manager of The Resort at Skamania Coves. Over the years, the resort's property, a prime location with direct access to the Columbia River and views of the Gorge, had become run down and derelict. Today, thanks to a tremendous amount of planning, concern for quality and attention to detail, the Resort at Skamania Coves lends itself to an elegant stay for visitors to take in the grandness of The Gorge.
Along with the individual residences, which can also accommodate individual stays, corporate retreats or family reunions, The Resort at Skamania Coves is also an established RV park with full hook ups, river access for guests, restrooms, showers and laundry facilities. Located just 1.2 miles east of Stevenson, Washington on SR 14 along the Columbia River, the Coves resort is centrally located to take in all that the Gorge has to offer.
The future of The Resort at Skamania Coves is still in design review but may include additional nightly stay units, central meeting hall, wine tasting and as well as river-front and general festivities all designed to take in the setting.
To learn more about or book a stay at The Resort at Skamania Coves, visit their website at http://www.skamaniacoves.com. Or contact them by email at manager(at)skamaniacoves(dot)com or by phone at (509) 427-4900.
###