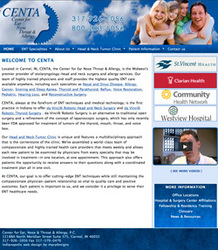 Mary Lewis and her team surpassed our expectations. They met with us in person to get to know us. It was obvious that they wanted to do more than create just another business website.
Indianapolis, IN (PRWEB) November 3, 2010
MaryDesigns®, LLC, an Indianapolis web design / development company, launched a completely redesigned website for the Center for Ear Nose Throat & Allergy (CENTA). CENTA is one of the Midwest's premier providers of head and neck surgery and allergy services, with offices in Carmel and Indianapolis. The site—centadocs.com—is a fairly large and informative site, offering not only office locations and practice information, but substantive information on new ENT developments, techniques and treatment options.
"CENTA's doctors are some of the most prominent in their field nationwide," comments Lewis, "but their previous website had become inadequate and out of date. The new design offers not only a fresh, new appearance and added functionality, it also contains a vast amount of information for both patients and referring physicians. At the same time, the new design is extremely user friendly and intuitive to navigate." MaryDesigns provided the design, development, copy editing and some photography for the new site.
In addition to this new centadocs.com site, MaryDesigns previously created a website for the allergy division of CENTA, ihateallergyshots.com. "We could not be more pleased with the results of both sites," stated CENTA's Tod Huntley, MD. "Mary Lewis and her team surpassed our expectations. They met with us in person to get to know us. It was obvious that they wanted to do more than create just another business website. They realized—and perhaps more importantly, helped US realize—that a business' website is part of that company's identity, reflects its personality, and helps define to others its core values and strengths. We are happy that the new centadocs.com and the ihateallergyshots.com websites not only achieve those requirements but exceed them. We highly recommend Mary and her group and will continue to work with them in the future."
Before starting her web development firm, Mary Lewis spent 16 years working closely with physicians in a local hospital. Her experience and expertise in the medical arena was invaluable in the redesign of this site.
"Over the past year, I have personally been involved in several meetings with CENTA and have gotten to know the doctors," continued Lewis. "It's a refreshing thing to meet a group of physicians who have been at the top of their field as long as they have—physicians with worldwide renown in all spheres of ENT—who are so passionate about their patients' well being. It was a privilege designing a site that highlights the services they offer, and the compassion with which they offer those services to their patients."
MaryDesigns®, LLC develops brand identity as well as SEO friendly business and eCommerce website solutions. As the owner of MaryDesigns, LLC, Mary Lewis has more than 13 years of experience designing creative, functional and cost-effective solutions for companies of all sizes. "Our clients know they top our agenda, and each one feels 'special' because of our hands-on, personalized, results-driven commitment."
MaryDesigns'® clients include healthcare providers, attorneys, construction companies, day and medical spas, eCommerce web stores of all sizes and other businesses across the globe. MaryDesigns® is located on the south side of Indianapolis but handles clients throughout the central Indiana region, including the neighboring cities of Fishers, Carmel, Zionsville, Greenwood, and Columbus. Many of MaryDesigns' clients represent regional and even national companies.
CENTA's new website is a comprehensive brand solution for an active and growing medical practice. Visit the new website at centadocs.com and see why MaryDesigns is an excellent choice for medical website development. MaryDesigns is headquartered at 1350 W. Southport Rd in Indianapolis. Contact MaryDesigns at 317.489.3783 or at marydesigns.com
###