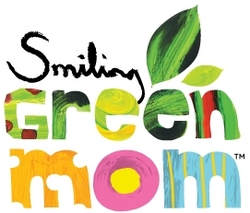 Through product reviews, articles from experts and general tips and ideas, my goal is to help people 'be the best green they can be.
Fort Wayne, IN (Vocus) November 2, 2010
After achieving rapid growth in just twelve months, green-living blog SmilingGreenMom.com has become the go-to "mom blog" for tips and advice on all things eco-friendly. As today marks the one-year anniversary of SmilingGreenMom.com, founder Lynn Stone is announcing some exciting new plans for the blog. In addition to its unique features such as Smiling Green Mom Approved products and experts in beauty, fitness and nutrition, the blog will now feature advertisement opportunities, including Skype interviews with representatives from green, sustainable and healthy companies.
"My favorite thing about my blog is that I am able to use it as a tool to help families looking to live simpler, greener and healthier lifestyles. Through product reviews, articles from experts and general tips and ideas, my goal is to help people 'be the best green they can be.'" says Lynn. "Now that I am adding Skype interviews, I am allowing my readers to connect directly with representatives from companies that can answer the questions everyone wants to ask."
In just a year, SmilingGreenMom has developed a dedicated following of fellow moms and green enthusiasts and boasts almost 3,000 monthly visitors. The blog's traffic has steadily increased over the course of the twelve months since Lynn's first post. The continued growth in traffic can be attributed not only to the useful content that includes healthy recipes, green-it-yourself tips and product recommendations, but also to the enthusiastic, authentic and dynamic personality of Lynn herself. Readers have begun to view her as an authority on green living and also admire her quick wit and quirky comments. Her posts exude her small town charm, passion and devotion to the topics she covers.
The idea for SmilingGreenMom.com was born after Lynn's own family was forced to make changes in their home. After turning away from steroids and harsh medicines and toward a more natural treatment for her son's severe eczema, Lynn began to think about all the chemicals and additives her family ingested on a daily basis. She began to make small changes in her home, including cooking with natural or organic foods and ditching her chemical-filled cleaning products for simple baking soda and vinegar. When she saw the success of the changes with her family, Lynn felt compelled to share her story with others and decided a blog was a great way to reach a wide audience.
The Skype interview idea came about when Lynn discovered that her readers often had questions about the companies who created green, sustainable and healthy products and services. In order to bridge the gap between companies and consumers, Lynn thought it would be beneficial to ask these companies questions posed by her readers.
"I am so excited to be able to use these interviews as a way to connect consumers to the companies that produce products they use everyday! By better understanding consumer wants and needs, companies can use that information to continue to improve the quality of their products and services," says Lynn.
After only a year, SmilingGreenMom.com has matured into a widely respected and admired resource for green living. Visit the blog, http://www.smilinggreenmom.com today to start being "the best green you can be."
For advertising rates, please contact Lynn Stone at smilinggreenmom(at)gmail(dot)com For more information, or to arrange an interview with Lynn Stone, please contact Leesa Raab, leesa(at)adinfinitumny(dot)com
###