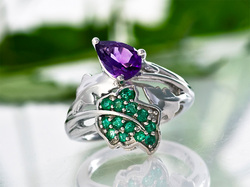 To celebrate this premier event, Liquidation Channel will be offering the limited edition jewelry design at a specially discounted price
Austin, TX (PRWEB) November 2, 2010
J Francis launches her first limited edition creation on Thanksgiving Day exclusively on the Liquidation Channel. This exclusive jewelry design - a highly revered collectible piece - will arrive to you in special presentation packaging. This creation is timeless and can be found only on the Liquidation Channel.
J Francis debuted her collection on Liquidation Channel on September 18th with tremendous success.
J Francis' signature designs are drawn from her life experiences and surroundings.
Gerald Tempton, president of Liquidation Channel says, "We believe you will find this limited edition piece to be truly one-of-a-kind; very special, and something with universal appeal. J Francis's collections complement our DNA of offering exceptional quality, exquisite designs and outstanding values."
Tempton added, "To celebrate this premier event, Liquidation Channel will be offering the limited edition jewelry design at a specially discounted price."
Customers can shop at Liquidation Channel in a variety of ways, such as making purchases online at http://www.liquidationchannel.com and watching a Live Simulcast Stream directly from the website, or on DirecTV Channel 226, Dish Network Channel 274, and local cable channels throughout the United States. Customers can also buy via the website's online auctions, making it possible for customers to have complete control over what they pay for unique jewelry pieces.
###