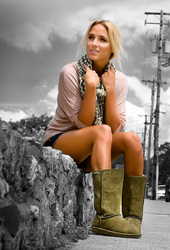 "Our fans now include everyone from Olympic medalists to Film, TV, and Music celebs reflecting popular culture in NY, LA, and everywhere in between... We want to embrace style without leaving comfort behind."
Citrus Heights, CA (PRWEB) November 3, 2010
BEARPAW Footwear, the lifestyle brand founded by Tom Romeo in 2001, is venturing out of the woods and into the city, with the launch of BEARPAW TV, broadcasting original content and culture to a global audience. "With our commitment to quality and to 'living life comfortably', we've built a strong base among people who spend time outdoors in the mountains, hanging out looking fashionable in front of a fire in log cabins, and that's certainly part of our message," said Sr. VP of Marketing Randy McKinley. "At the same time, our fans now include everyone from Olympic medalists to Film, TV, and Music celebs reflecting popular culture in NY, LA, and everywhere in between. With BEARPAW TV, we want to spread the word that we're a brand that embraces style without leaving comfort behind."
Indeed, stars from Lindsey Vonn and Sasha Cohen to Jane Lynch, Bai Ling, and Sarah Drew have all demonstrated an affection for BEARPAW's boots and shoes. McKinley said the content on the company's BEARPAWtv YouTube channel, and on its online magazine, http://www.BEARPAWstyle.com, reflects "an irreverent attitude that's about enjoying life and being comfortable with yourself." In fact, the company's new unofficial motto, "BEAR it All," was coined during a photo shoot in Sonoma, CA, where the BEARPAW team made the acquaintance of UK on-air personality Simon Rawley-Wells.
"Our time with Simon was the springboard for BEARPAW TV," said Romeo. "He wasn't just a reporter doing interviews. Simon had a lust for life that had been subverted, quite frankly, by a career in broadcasting. When we met, something clicked. We didn't know it then, but it was the birth of this channel, the first episode of our first web series."
That web series, and the BEARPAWtv channel, is part of an initiative spearheaded by SLAM (Sportie LA Media), designed to promote the culture of the BEARPAW brand. The first webisode went live July 29 on http://www.BEARPAWstyle.com, and a second webisode, shot in Rawley-Wells' native London, broke August 9. Webisodes 3, 4, and 5 followed, chronicling Simon's adventures as he explores his inner artist post-BBC.
"We've talked about having a 'BEARPAW on the Streets of London' event for a long time, and Simon has moved us one step closer to that," said Executive Vice President John Larkin, who was also on-hand at the shoot in Sonoma. "We're considering some official events in the UK and other international destinations. Our message really is a global one."
"I'm elated, man," said Rawley-Wells from the Culver City studios of Peligro Music, where he was polishing a rap song he'd written under the moniker O' Buzzard. "For so long, I didn't have a lifestyle, I had a workstyle. I was successful by work standards, but I felt like a failure. What happened in Sonoma, meeting people like Tom, Randy, and (Sportie LA co-owner) Isack Fadlon? I think I learned that it's not healthy to keep your dreams at bay. Your life's work will always be your best work. That's the journey I'm on now."
About BEARPAW
Tom Romeo founded the BEARPAW brand in 2001 with the intention of redefining casual footwear by utilizing sheepskin, nature's own technical fabric, to create comfortable and stylish shoes. Sheepskin naturally regulates body temperature so feet stay cooler and drier in the heat and warmer in the cold.
In one of the most competitive footwear market segments, BEARPAW has carved out a niche area by providing customers with comfort and sensibility to set itself apart. From slippers to boots to casual footwear, only the finest materials are used to produce BEARPAW shoes. Built to deliver quality and style, every pair of BEARPAW shoes focuses on comfort and fit, using the highest standards of craftsmanship.
BEARPAW Footwear is now seen as a lifestyle, one that reflects who you are and what's important to you. It's about sitting in front of a fireplace with friends in a winter cabin. It's about that end of summer party at the edge of the lake. It's about watching those last waves at your favorite beach spot before putting your board away for the winter. It's about you and the lifestyle you lead. Now with an extensive line of footwear that covers multiple categories, BEARPAW is available throughout the United States and in thirteen countries around the world. BEARPAW will continue to offer the utmost in comfort while new products leverage their philosophy of creating stylish designs in premium materials for women, men, and children.
About SLAM
Sportie LA Media (SLAM) began as an in-house venture shaping a highly visible brand image that spans Web, print, and broadcast TV. That image is underscored by extraordinary traffic (600,000-1,000,000 hits/day) for retail site SportieLA.com, the company's second-largest retail outlet, outsold only by its flagship location on Hollywood's Melrose Avenue. Since 2007, Sportie LA/SLAM has been covered in sneaker and fashion magazines the world over, consistently made Top 10 and Power lists of most influential indie retailers, and occupies prime, organic real estate on the 1st page of Google for the terms like "LA Sneakers," "Sneaker Videos," and "Los Angeles Sneakers". The firm has executed initiatives for select footwear brands such as LA Gear, Lacoste, PF Flyers, Creative Recreation, Fila, and BEARPAW Footwear.
###