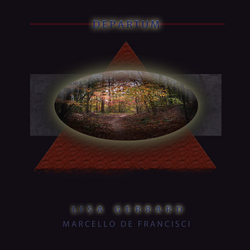 "Departum is mesmerizing from start to finish. There is something about teaming up Lisa's voice with world music that is built to explode for a finale and this album has worked that out a treat." Higher Plain Music - Review July 23, 2010
(PRWEB) November 14, 2010
Academy Award nominee and Golden Globe winner singer/composer Lisa Gerrard (Dead Can Dance) and film composer Marcello De Francisci have joined forces to bring you their first collaborative album work titled "Departum". This album is a collection of pieces, which are filled with lyrical soundscapes, orchestrated with vocal chants, cimbalom, guitars, percussion, modern instruments and orchestra. An effort that took two years in the making moreover a journey inspired by ancient world cultures. (Mesopotamia, Europe & Asia)
The album is currently available for download through Gerrard Records, Itunes, and Musicadium. Gerrard Records and CD Baby are currently providing physical distribution of hard copy CD's worldwide. Included with the physical CD package comes an embedded MP3 download version of the album and electronic artwork booklet as well.
Gerrard Records was formed as an independent record label in 2009.
You can also follow us on Facebook, My Space and Twitter for latest updates and new releases.
###