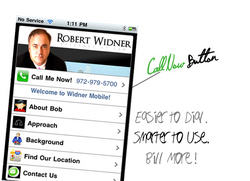 Having a mobile website presence has increased our business, by giving our potential clients a way to easily contact us through their mobile device.
Rockwall, TX (PRWEB) November 3, 2010
The growth of wireless devices is changing our society. It is estimated there is over 241 million mobile phone users in the United States with web capable browsers. The problem is, most of these new customers can't see traditional designed law websites. We solved that problem.
Law Appz is creating a huge competitive advantage for their client base of attorneys and law firms by designing websites that uniquely access these 241 million new customers. CEO Jared Rice commented, "Since our release last week of Law Appz, we have signed 14 new clients, mostly personal injury attorneys, such as Jim Adler, who is widely recognized as one of the largest Personal Injury Attorneys in the country. These PI attorneys understand the need to access these 241 million customers using these phones, at the scene of an accident. The base price of $995 pales in comparison to a mobile website that can access one personal injury case that could be worth one million dollars or more. Not only has our phone rang off the wall since we launched this project, we now have attorneys that are entering negotiations that want to prevent their competition from using the call now button to immediately access all these new customers."
By adding this utility to attorney's arsenals, Law Appz has effectively launched their clients into what can only be considered the next phase of law site accessibility. "Having a mobile website presence has increased our business, by giving our potential clients a way to easily contact us through their mobile device. Spending even the base price of $995 makes customer acquisition cost one of the most effective means to reach clients—payback occurs with less than one customer," said Robert Widner, a Dallas-based Divorce Lawyer.
Building on the smartphone features creates clear opportunities for mobile websites and applications. Consider these benefits:

Unique Access – Smartphones offer the functions of a personal computer, but you hold it in your hand. Most people have their mobile phone with them at all times. When they need a lawyer, they have their phone in the car, at the accident, not their desktop computer. The millions of people with web-based phones can't readily read most law websites, but with Law Appz they can. New clients don't need a pen and paper to write down your number, they click one button and they are talking to you.
Immediate Access – Smartphones with a Law Appz website have the unique "Call Now" feature, which puts an attorney one push of a button away from their client. The Law Appz mobile website has a button when pushed, gives you immediate location access, with instant gps mapping to your law office. Your traditional websites, are many buttons and links, both of which cannot immediately connect your clients on their mobile devices.
Connectivity – 3G and 4G connectivity offers an "always on" connection to the Internet. Some phones now come with integrated Wi-Fi, making your clients mobile viewing experience an advantage and not a hassle.
Law Appz is proud to offer the following service on the following mobile platforms:
iPhone ™ / iPod Touch ™ / iPad ™
Android OS
Windows Mobile OS
Blackberry OS
and over 5,000 other smart phone platforms
Law Appz is a leading Texas mobile web design and development company offering high quality web design, web development and Internet marketing solutions for attorneys and law firms. Law Appz is located in Rockwall, Texas. For more information see http://www.LawAppz.com or call 1-888-974-6784.
# # #