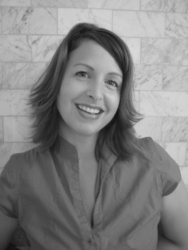 You need help: a little money and someone to hold you accountable and you need supporters, like Philadelphia Stories, who say, 'keep going.'
Philadelphia, PA (Vocus) November 4, 2010
New Orleans resident and emerging author Allison Alsup has been chosen winner of the 2010 Marguerite McGlinn Prize for Fiction by Philadelphia Stories, a literary magazine that publishes writing and artwork in Philadelphia, New Jersey and Delaware. Alsup's story "East of the Sierra" was chosen from more than 160 submissions, according to Philadelphia Stories Fiction Editor and Co-Publisher Carla Spataro.
"East of the Sierra" illustrates the journey of a man emigrating from China to San Francisco three times over the course of his life, the last time with his son. Prize judge Ru Freeman, author of the novel A Disobedient Girl, said "East of the Sierra" "…captures the universal tussle between youth and old age, home and adventure, tradition and change … a tale of immigrants, as true today as it was over a hundred years ago. To do all this in less than 5,000 words points to an author with a pitch-perfect command over both material and audience."
Alsup and her husband Gavin, a historic home renovator, were flown in from their hometown to Philadelphia for an awards dinner on October 15th, where she was presented with the contest's first prize of $2,000 and honored for her work.
After being laid off from her university teaching job in New Orleans two years ago, Alsup was working part-time and drained of the passion she had once held for her work when she made the life changing decision to follow her dream of writing fiction. "The decision to walk away from a possible lifetime position in favor of my fiction, which had no track record of success, was a little terrifying, but like a lot of writers, I felt a had no choice. You have to write or everyone within hearing distance suffers," she said.
She was overwhelmed by the news of her win, noting that "(the) award means so, so much – financially, emotionally and professionally – to an emerging writer like me. The work you all do is nothing short of life changing or at least, affirming. Most writers, including myself, couldn't do what I am doing alone," she added. "You need help: a little money and someone to hold you accountable and you need supporters, like Philadelphia Stories, who say, 'keep going.'"
About the Marguerite McGlinn Prize for Fiction
The Marguerite McGlinn Prize for Fiction is an annual national short fiction contest of Philadelphia Stories that awards a cash prize and publication in its winter issue print and online editions. It was begun in 2009 in tribute to Marguerite McGlinn, essay editor for Philadelphia Stories from 2004 to 2008. Her travel stories appeared in the New York Times, the Sun-Sentinel, the Philadelphia Inquirer and the Los Angeles Times, and three of her short stories won places in "Writing Aloud," a program of dramatic readings that matches contemporary fiction with professional actors. She was an adjunct instructor at Saint Joseph University in Philadelphia, and her story "The Sphinx" appeared in the Fall 2007 issue of Philadelphia Stories and the second volume of the Best of Philadelphia Stories (2009). The Marguerite McGlinn Prize for Fiction is made possible by the generous support of the McGlinn family and the Dry Family Foundation. Submission guidelines for the Marguerite McGlinn Prize for Fiction can be found at http://www.philadelphiastories.org/marguerite-mcglinn-prize-fiction-0.
About Philadelphia Stories
Philadelphia Stories publishes literary fiction, non-fiction, poetry, and art from the tri-state area of Pennsylvania, New Jersey and Delaware, and is available for free at more than 120 locations in all three states. Philadelphia Stories also presents readings, workshops and conferences for writers and authors. For more information, please call 215-313-2588 or visit online at http://www.philadelphiastories.org.
# # #