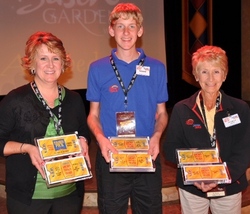 For these awards, we humbly thank our wonderful Hosts and Hostesses
Santa Claus, IN (Vocus) November 2, 2010
The new Wildebeest water coaster at Holiday World & Splashin' Safari was named the Best New Ride in a Water Park and Best Overall Water Park Ride at the Golden Ticket Awards, presented during an Academy Awards-style ceremony at Busch Gardens Williamsburg in September.
In addition, Holiday World's Voyage roller coaster was named the #1 Wooden Coaster on the Planet for the fourth year in a row.
Presented by Amusement Today publisher Gary Slade, the industry's "best of the best" awards include theme, amusement and water parks from around the world. Holiday World & Splashin' Safari won a record six Golden Ticket Awards at this year's ceremony.
For the eleventh consecutive year, Holiday World & Splashin' Safari were named the #1 Cleanest Park, outranking such parks as Disney World, Kings Island, Dollywood, and Cedar Point. The parks also received #1 Friendliest Park award for the twelfth year.
"For these awards, we humbly thank our wonderful Hosts and Hostesses," says park matriarch Pat Koch, who attended the ceremony with daughter-in-law Lori and grandson William. "It was a long, hot summer and they all worked together to keep smiling and keep cleaning."
In an emotional tribute, the late Will Koch was honored as only the second inductee in Amusement Today's Legends Series for being "a true visionary, leader and dear friend to the industry." The park's leader for more than two decades, Koch passed away unexpectedly in June at the age of 48. His brother and business partner Dan Koch continues as president and CEO.
Amusement Today is an international monthly trade journal for the amusement and water park industries, based in Arlington, Texas. The Golden Ticket Awards are determined by surveys submitted by well-traveled park enthusiasts from around the world.
Holiday World & Splashin' Safari, in Santa Claus, Indiana, will open for the 2011 season in May, with the premiere of Rudolph's Round-Up and Safari Sam's SplashLand. For more information about the parks, visit Holiday World or call 1-877-Go-Family.
###