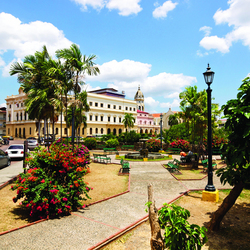 Travelers want budget-friendly tours to undiscovered destinations.
Cambridge, MA (PRWEB) November 3, 2010
For twenty years, Go Ahead Tours has been creating comprehensive, affordable vacation tour packages for adult travelers who are eager to see the world. Recent traveler surveys revealed three trends in adult travel:
•Travelers want budget-friendly tours to undiscovered destinations
•Travelers want tours featuring a blend of cultural discovery and sightseeing, paired with an
insightful glimpse into a destination's cuisine
•Travelers are concerned about the effect of currency fluctuations on their wallets
Guided by these findings, Go Ahead has created two new tours to Latin America. The first tour, Best of Panama Tour: the Capital to the Canal, includes a partial transit of the Panama Canal, an exploration of Panama City's French- and Spanish-influenced old town, a tour of the Gamboa rainforest and plenty of free time on the beach. Panama uses the U.S. dollar, so Americans will never lose money to currency fluctuations.
The second tour, A Taste of Chile & Argentina, focuses on two increasingly popular culinary capitals. Travelers will learn about the multicultural heritage of bustling Buenos Aires and find out why bucolic Bariloche looks like a Bavarian village. Along the way, travelers will sample the wines of the Uco Valley, the Napa of South America, and savor succulent Argentine beef. With the dollar showing continuing strength against Latin American currencies, travelers can make their dollars stretch further than they could on similar trips to Europe.
"According to The Economist's 'Big Mac Index,' the Euro is overvalued against the dollar by 16%," said Christy Waller, Vice President, Marketing & Analysis for Go Ahead. "By contrast, the Argentine peso is undervalued by about 5% and the Chilean peso is undervalued by 10%—which means your dollar will go much further on a Latin American vacation than on a similar vacation to Europe. We know that our travelers still want to travel despite the tough economy, so we designed these new tours for budget-conscious travelers who want to get out and explore the world but were perhaps deferring their vacation until the economy improved."
You can learn more about Go Ahead's new tours at http://www.goaheadtours.com/pam and http://www.goaheadtours.com/cha.
Established in 1990, Go Ahead Tours (http://www.goaheadtours.com) offers over 75 high-quality escorted tours around the world to travelers—both seasoned and new—who are looking to learn more about the world and themselves. Committed to breaking down barriers of culture and geography, Go Ahead provides customers with superior quality, exceptional value and an unsurpassed Best Price Guarantee; that is, if you find the same tour for less, Go Ahead will match the price. Go Ahead's parent company, EF Education, was founded in 1965 and is the world's largest private educational travel company.
###