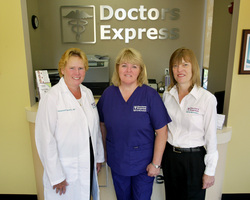 We're here to provide a fresh approach to local medical service, by operating a high-quality, lower cost alternative to emergency room visits
Hamilton, NJ (Vocus) November 4, 2010
Doctors Express, the first national urgent care franchise, will open in Hamilton, New Jersey on Saturday, November 13 to provide walk-in convenience and affordable medical treatment. The grand opening celebration from 12 pm to 5 pm will feature free flu shots while supplies last, entertainment for kids, door prizes and refreshments.
Doctors Express Hamilton is the second Doctors Express location to open in New Jersey and the first in central New Jersey and Mercer County. The 2,100-square-foot center is located in the Hamilton Shops at 2222 Route 33, convenient to Hamilton and Robbinsville, and to interstates 95, 195, 295 and the NJ Turnpike.
Owner Laura Fabbro of Hamilton will use her extensive experience in finance, sales and marketing, and human resources to operate Doctors Express Hamilton. "We're here to provide a fresh approach to local medical service, by operating a high-quality, lower cost alternative to emergency room visits," said Fabbro. Rosemarie Boehm, M.D., is the center's Medical Director and Chief Practitioner.
Featuring 7-day-a-week service, extended hours and an average patient wait time of only 15-20 minutes, Doctors Express offers a high-quality, broad range of treatment and services unavailable at other urgent care centers. A licensed, experienced physician is on-site at all times to diagnose and treat injuries and illnesses, and x-ray and set broken bones. Physicians are trained to handle cases from Level 1 - Level 4 severities (most urgent care centers don't handle Level 4 cases).
Doctors Express centers each include a triage area, state-of-the-art digital x-ray equipment, exam rooms, on-site laboratory that gives quick test results for ailments such as mononucleosis and strep throat, and an on-site pharmacy. Most insurance, including Medicare, is accepted, and affordable rates are available for uninsured patients. Doctors Express has been recently featured in news stories by NBC Nightly News, San Diego Business Journal and Florida Times Union, among others.
Local employers can benefit from using Doctors Express' occupational medical program - an integrated, comprehensive source for health services used by all types and sizes of businesses. "We provide pre-employment physicals, drug screenings, immunizations and vaccines, and treat work-related injuries, and can do it more conveniently and efficiently," said Fabbro.
Doctors Express Hamilton staff also includes Director of Operations Loretta Miehle, and the center has also hired certified x-ray technicians and medical assistants.
Doctors Express Hamilton's hours of operation will be 8 am to 8 pm Monday through Friday, and 9 am to 6 pm on Saturday and Sunday. The address is 2222 Route 33, Hamilton, New Jersey 08690. The phone number is 609-890-4100, and the fax number is 609-890-4189. Off-street parking is provided. The web site is http://www.doctorsexpress.com/Hamilton.
ABOUT DOCTORS EXPRESS:
Doctors Express was founded in Baltimore, Maryland in 2005 by an emergency room physician seeking a more efficient, affordable and personable system for urgent care patients. Its mission: "We treat every patient with respect and compassion. We serve our communities by providing the highest quality medical care in a quick and convenient manner." There are currently 49 Doctors Express franchisees in operation in 22 states, with approximately 78 units sold to date.
###