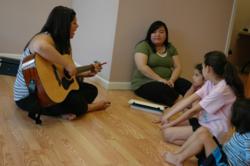 Congratulations to one of our Students, Amanda T., for her music video casting.
North Haledon, NJ (PRWEB) November 04, 2010
Haledon, NJ (PRWEB) May 20, 2011 -- NJ Kidz Club is a performing arts studio focused on acting, singing and dancing. Our overall mission is for the kids to have fun and enjoy the arts in a fun and safe environment.
PAC - is an introduction to the performing arts and includes dance, drama and singing. The Triple Threat Program.
Musical Theater - is a 90 minute class focusing on singing, dancing and acting to scenes from popular Broadway shows. Students will be introduced to different Broadway tunes and will learn to perform a musical scene and learn stage direction.
Acting I & II - Students will learn acting exercises, drama games, acting techniques, on camera, scene study and audition mock ups.
Currently registering for Summer Camps. Our summer programs are filled with fun games and lessons for acting techniques, mock auditions, improvisation, scene writing, singing and dancing.
Visit their website for more details or give them a call.
973-910-1722
# # #