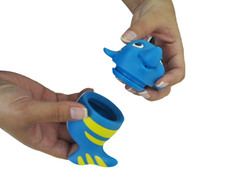 Kentwood, MI (PRWEB) November 2, 2010
Sassy is proud to announce that their new Stay-Clean™ Silly Squirts™ have received the 2010 JPMA Innovation Award at the ABC Kids Expo in Las Vegas, Nevada. This award is sponsored by the Juvenile Products Manufacturers Association. Internationally recognized, the JPMA Innovation Awards highlight some of the most exciting new products in the juvenile marketplace today. Each year, more than 100 companies enter their most cutting-edge products for this renowned competition, but only 10 are awarded the title of Most Innovative.
The patent-pending Stay Clean ™ Silly Squirts™ have a unique 2-piece design that helps prevent mold growth that traditional bath squirters cannot avoid. Where typical bath squirters should be replaced every three to six months, the new Stay Clean ™ Silly Squirts ™ can be repeatedly used and properly cleaned without need of replacing.
While the brightly-colored, BPA free squirters snap apart for cleaning, they snap back together for fun play. In line with Sassy's commitment to developmental play, the Stay Clean ™ Silly Squirts™ have the added benefit of assisting children in imaginative bath-time play. Each character features symmetrical faces to engage baby, and can be mixed and matched with all other Stay Clean™ Silly Squirts™ characters to create fun, whimsical animal creations. For instance, mix-and-match the cat and fish to create a catfish.
"It is a great feeling to know that we have designed a product that satisfies a long standing mom problem while providing hours of bathtime fun for baby," said Rick Schaub, President of Sassy.
The initial line of Stay Clean ™ Silly Squirts™ is available now at Babies R Us and other fine retailers, with additional characters coming in the months ahead. Perfect for babies 6 months and up, Stay Clean ™ Silly Squirts™ come two to a pack for a suggested retail price of $5.99.
About Sassy, Inc.
Founded in 1982, Sassy operates out of Kentwood, MI. Sassy enjoys distribution in all major trade channels, including mass market retailers, food chains, drug stores, catalogs, and independent baby and toy stores in the United States. In addition, Sassy products can be found in 29 countries worldwide. Sassy's extensive product categories have grown to include developmental and attachable toys, infant and toddler bath and feeding products, grooming and hygiene products, teething products and room organization products. For more information about the company, go to http://www.sassybaby.com, or contact customer service at (616) 243-0767.
About Kid Brands, Inc. (Sassy's parent company)
Kid Brands, Inc. and its subsidiaries are leaders in the design, development and distribution of infant and juvenile branded products. Its design-led products are primarily distributed through mass market, baby super stores, specialty, food, drug, independent and e-commerce retailers worldwide.
The Company's operating business is composed of four wholly-owned subsidiaries: Kids Line, LLC; LaJobi, Inc; Sassy, Inc.; and CoCaLo, Inc. Through these subsidiaries, the Company designs and markets branded infant and juvenile products in a number of complementary categories including, among others: infant bedding and related nursery accessories and décor, kitchen and nursery appliances and cooking products, and diaper bags (Kids Line® and CoCaLo®); nursery furniture and related products (LaJobi®); and developmental toys and feeding, bath and baby care items with features that address the
various stages of an infant's early years (Sassy®). In addition to the Company's branded products, the Company also markets certain categories of products under various licenses, including Carter's®, Disney®, Graco® and Serta®. Additional information about the Company is available at http://www.kidbrandsinc.com.
###