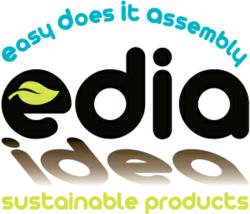 It's Easy to Be Green.
(PRWEB) November 04, 2010
People of a certain age fondly remember a little green frog on TV singing "It's Easy to Be Green." Back then, being green meant eating all your broccoli at dinner before getting dessert. Now, "green" is a watchword for a sustainable, earth-friendly lifestyle, affecting manufacturing processes and products all over the world.
Blue Marble Designs makes it easy to be greener toward both the environment and your bank account with its line of flat packed products for the home garden. Blue Marble Designs EDIA products make a lot of sense for the retailer because of their high cube and lower transport costs. Efficient POP packaging means less fossil fuels consumed which leads to savings passed on to consumers and a product that looks as good as when it left the factory. It's a triple win: for stores, their customers and the planet!
If the word "Assembly" strikes a deep fear, rest assured there's no reason to be scared. Assembly with EDIA is so simple that the Blue Marble "Magnum" model planter box can be put together in about 10 minutes with a single screwdriver. It is effortless to put together. When done, there is a better quality planter box that won't bust at the corners after planting and watering.
For better customer assistance, Blue Marble also produced several short and entertaining video assembly instructions located on the website, http://www.bluemarbledesigns.com. These videos show in real time the quickness and ease of putting together several different models of the Blue Marble trellis', arbors and planter boxes. If preferred, these instructions are also available in a reader friendly format on the website.
Blue Marble Designs, LLC is an innovative solutions-based company that designs and sells unique garden and home décor products to the retail trade. Leveraging our global sourcing and supply chain resources, we offer creative packaging and logistics solutions to a variety of lawn and garden retailers throughout the US. For additional information about Blue Marble, please visit us at http://www.bluemarbledesigns.com.
###