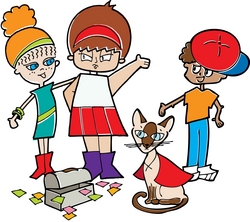 Jan Welborn-Nichols, the writer behind Henrietta Sharp, was a child chubbette. "That's why I wanted to tell a story about a character who is chubby, but so much more. Henrietta Sharp is smart, funny, cute and, oh yes, she has a super power too."
Crossville, TN (PRWEB) November 4, 2010
There is no shortage of nutritional information but until now the facts have not had a platform that captures the imagination. HenriettaSharp.com offers a unique approach to the problem of childhood obesity, serving up weekly installments of the online book Henrietta Sharp and the Magic Lunch Box. Facts can be forgotten, but a story lasts a lifetime. And that's what makes HenriettaSharp.com unique.
Many of the characters that are in the story also populate HenriettaSharp.com. Kids meet Sugar Daddy, a power-mad sugar bowl who wants to get into all food everywhere. They also encounter the wise Sir Brocco Lee, his stylish apprentice Miss McCauley Flower, and a mouthy, magic lunch box that communicates via sticky notes.
As kids connect with these and other characters, they get involved in the adventure to defeat an arch-villain who wants to enslave humanity with deceptively delicious food. Along the way, kids learn to be Food Detectives, spotting the presence of bad guy ingredients in the foods we eat as they learn practical tips about portion size and smart choices.
It's fun to save the world and that's exactly what kids do at HenriettaSharp.com as they learn to save themselves by making healthier choices.
Join the adventure and help save the taste buds of humanity at HenriettaSharp.com.
###