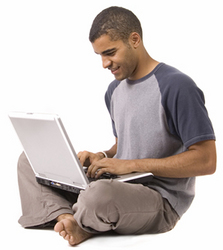 Online start ups are becoming the norm and are a more viable option to pursue than University Degrees.
Cardiff, UK (PRWEB) November 8, 2010
In the past, students would attend a university to complete their schooling, and leave with a degree and a lot of debt. However, in the current economic environment, post-graduation jobs are no longer guaranteed. In response to that need, UK Make Money Programs has released more in-depth reviews of top online business programs. The new reviews offer consumers updated information about the best opportunities in the online business market.
Online entrepreneurs are developing new businesses at a rapid rate. According to Alex Smith of UK Make Money Programs, "online start ups are becoming the norm and are a more viable option to pursue than University degrees." UK Make Money Programs has responded to that need with these newly released top product reviews and information on their website.
When Katherine Sellgren interviewed Das Bikramjit Gakhal in her article, "The Bright Pupils Who Shun University for a Head Start," Gakhal admitted that University is not always the best path. According to Sellgren, "[Gakhal] believes the financial risks associated with studying for a degree are not worth taking. He said: 'I was worried about debt, about coming out with all that debt on my shoulders." To avoid that debt, UK Make Money Programs has provided new top recommendations as a reliable guide for students to use when researching legitimate business opportunities.
While there are many online opportunities, not all of them are a reliable source of income. Alex Smith says, "With UK Make Money Programs, we work hard to make sure that all of our programs are fully vetted so that our users have the best chance for success. Our new top online business recommendations give potential business owners the information they need instantly."
Sites like UK Make Money Programs offers a wealth of information and online reviews for those with an entrepreneurial spirit. While Alex Smith's website does not administer the programs, he does provide people with all the pertinent information to make a good decision on their career path-- and the newly released recommendations feature cutting-edge information. According to Alex Smith, UK Make Money Programs "is a review site at heart that links people to the best make money programs online. It's packed with articles and free resources that will help people make money in general and make money online in particular." Sites like Alex Smith's offer students a new way to create success in today's economy-- but without the time or monetary expenditure that University requires.
For more information or to schedule an interview, contact Alex Smith or visit http://www.ukmakemoneyprograms.com
About UK Make Money Programs
UK Make Money Programs was started by Alex Smith to find legitimate ways to make money online. Alex is a Business graduate from a top UK University and has been working and making money online for several years now. UK Make Money Programs reviews a vast number of online business programs so that people who want to have a business online can know which solutions will work for them.
Sources
Caesar, Ed. 13 September 2009. 'Mickey Mouse' Degrees? Far from Being Worthless, the More Unusual Degrees are Proving a Hit with Employers, Available at: http://www.timesonline.co.uk/tol/life_and_style/education/article6829650.ece
Sellgren, Katherine. 18 August 2010. The Bright Pupils Who Shun University for a Head Start. Available at: http://www.bbc.co.uk/news/education-10926532
###