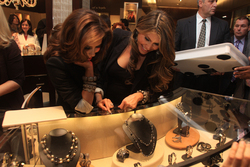 I had a great time this past weekend, showcasing my new collection at London Jewelers
New York, NY (Vocus) November 2, 2010
On Saturday, Internet mogul/designer Loren Ridinger and best pal Eva Longoria Parker hosted a Loren Jewels (http://www.lorenjewels.com) trunk show at London Jewelers (http://www.londonjewelers.com) in Manhasset, New York. The event, which was sponsored by Haute Living Magazine (http://www.hauteliving.com) brought out celebrities and socialites alike. Guests included: E! reality star Jonathan Cheban, Real Housewives of Beverly Hills cast member Lisa Vanderpump and Z-100's morning show co-host Carolina Bermudez.
"I had a great time this past weekend, showcasing my new collection at London Jewelers," said Loren Ridinger. "To create a partnership with such a premiere jeweler, known for presenting the world's most prestigious jewelry brands, is incredible! The crowd and excitement was unbelievable and having my dear friend and biggest supporter, Eva, join me made it extra special," said Ridinger.
The Rally for Kids with Cancer, a charity that Loren and Eva co-chair, also benefitted from this event with a portion of the proceeds being donated to the cause to fight childhood cancer.
"It was a dream come true," said Candy Udell, Owner of London Jewelers. "I was honored to host the event with such beautiful people, the event was spectacular and it was fabulous to work with so many talented people," said Udell.
To view the entire exclusive collection of Loren Jewels® at London Jewelers, please visit (http://www.londonjewelers.com) or contact London Jewelers at: 516.627.7475.
About Loren Jewels®
Loren Jewels is considered a must have by Hollywood's elite. Eva Longoria Parker, Kim Kardashian, Kris Jenner, Jennifer Lopez, Joel Madden, Swizz Beatz, Alicia Keys, Paulina Rubio and Marc Anthony are among those often seen wearing Loren Jewels. Each piece in this exquisite collection is created to the highest possible standard. Each is handcrafted using only the finest materials and the most extraordinary gemstones in the world. The collection's focus is on precious metals and gemstones including diamond, pearl, blue sapphire, bakelite, tourmaline, rose quartz, emerald, black onyx, and tanzanite. Prices range from $750 to $100,000.
About Loren Ridinger
Senior Vice President of internet retailing giant marketamerica.com, (http://www.marketamerica.com) Creator of the award winning cosmetic line, Motives® by Loren Ridinger (http://www.motivescosmetics.com) and the uber-luxurious skincare line, Cellular Laboratories™, and founder of the exquisite jewelry collection, Loren Jewels® .
Loren is an internet mogul who has been changing the face of the beauty and shopping industries for many years. Her impeccable style has established her as one of today's leading trendsetters. She has been named to Vogue's Top 100 as one of their most influential women, selected by Haute Living as one of New York's and Miami's most influential residents, awarded the 2009 Women of Substance and Style award, recognized by Fashion Group International for her contribution to the fashion and beauty industry, in addition to being named Woman Extraordinaire and Top 50 Entrepreneur by Business Leader magazine. Loren has transcribed her style and fashion expertise to her personal blogs, LorensWorld.com (http://www.lorensworld.com) and MyFashionCents.com (http://www.myfashioncents.com) which also won the 2009 DivineCaroline.com Award.
Loren's passion to help others leads her involvement with many charitable causes including Rally for Kids with Cancer, which she co-Chairs with Eva Longoria Parker, American Heart Association, from whom she received the 2010 Big Heart Humanitarian award, the Make-a-Wish Foundation, Cystic Fibrosis Foundation, the Rush Philanthropic Arts Foundation and many others.
About London Jewelers
A Long Island legend for 84 years, London Jewelers offers the world's most distinctive designers of fine jewelry, prestigious timepieces and unique giftware. London Jewelers has five locations throughout Long Island - Americana Manhasset, Wheatley Plaza, East Hampton, Southampton and the original store in Glen Cove. London Jewelers is dedicated to superb service and the highest standards of excellence, innovation and quality in luxury jewelry and watches. For more information visit http://www.londonjewelers.com.
###