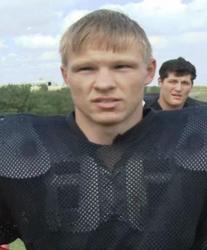 The National High School Coaches Association is proud to recognize Evan for his outstanding performances, not only on the field, but in the school and community as well
Manhattan, KS (Vocus) November 3, 2010
GTM Sportswear® and the National High School Coaches Association (NHSCA) are pleased to announce Evan Kreger as the GTM Sportswear® Athlete of the Month for September 2010. Kreger will be recognized at a press conference at Hodgeman County High School in Jetmore, Kansas on November 10, 2010 at 11 am CST. He will receive GTM® merchandise and be featured in various GTM Sportswear® marketing materials.
Kreger scored 10 touchdowns, all in the first half, in Hodgeman County High School's 74-8 season-opening victory over Rozel Pawnee Heights High. He ran for eight touchdowns, adding a ninth on an interception return and a 10th on a punt return. The mark is a record for Kansas eight-man football and ties the national eight-man record held by four other players, most recently in 2005. Also seventh in the state meet in the 100-meter dash last spring, Kreger had 361 yards of total offense in a game that was halted at halftime.
"The National High School Coaches Association is proud to recognize Evan for his outstanding performances, not only on the field, but in the school and community as well," said Bobby Ferraro, Jr., Executive Director of the National High School Coaches Association. "It's truly an honor to recognize someone of this stature."
"GTM Sportswear® is honored to be partnering with the NHSCA in recognizing outstanding student athletes such as Evan. He has really shown his commitment and dedication to his sport and is a great example for the youth in our communities," said Nikki Miller, Vice President of Marketing for GTM Sportswear®. "We are very proud of Evan and his outstanding achievements."
The NHSCA and GTM Sportswear® will honor one deserving high school athlete each month through April 2011. NHSCA Coaches can nominate commendable athletes through the NHSCA website. Each month six finalists will be selected by the NHSCA and presented via ballot to a group of high school sports writers, high school coaches, NHSCA and GTM® representatives to choose the winner. Out of the eight recipients of the monthly award, one athlete will be chosen as the GTM Sportswear® Athlete of the Year in May 2011.
About the NHSCA:
Founded in 1989, the National High School Coaches Association is a not-for-profit 501c3 service organization providing support and leadership programs for the nation's 500,000 high school coaches and 10 million high school athletes. For more information on the National High School Coaches Association visit nhsca.com
About GTM Sportswear®:
GTM Sportswear® is a national sportswear company specializing in team uniforms, warm-ups and practice apparel with custom embellishment. The business began in 1989 with two friends selling college apparel to students under the name It's Greek to Me, Inc. The company quickly grew by branching out into high school team and booster apparel and changed its name to GTM Sportswear®. GTM® headquarters is located in Manhattan, Kansas where a 160,000 square foot facility holds over 700 employees. For more information visit gtmsportswear.com
###