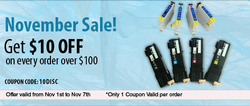 Because online purchasing should be easy and affortable, for the upcomming Holiday Season we are featuring weekly deals, bi-weekly discounts, and even month long sale items
Bell, CA (Vocus) November 3, 2010
November has begun with discounts and deals at Inkjetsuperstore with deals ink and toner cartridges on all brands including HP, Brother, Lexmark, Samsung, Xerox, Canon, Toshiba, Dell, IBM, Sharp, Kodak and many others in stock. "Because online purchasing should be easy and affortable, for the upcomming Holiday Season we are featuring weekly deals, bi-weekly discounts, and even month long sale items," shared Maria Pia Lopez, Marketing Analyst at Inkjetsuperstore.
This week online customers can get $10 off on ink and toner cartridge purchases of over $100 using coupon code: 10DISC at checkout. Included in the offer are OEM printer cartridges as well as Inkjetsuperstore's own brand of remanufactured and compatible cartridges. Their aftermarket alternative cartridges are made in ISO-9001 certified factories that hold the same quality as OEM cartridges but cost much less.
Along with discount on printer ink when visiting their website customers will find discounts on a wide range of CD's, DVD's, data tapes, external hard drives, zip disks, USB flash drives featured in the Media tab. Also they will find a coupon in the Cable tab for Firewire Cables, USB Cables, DVI & HDMI Cables, Adapters & Gender changers, Internal Power & Stereo Cables, KVM (Keyboard/Video/Mouse) Cables to name a few.
About Inkjetsuperstore
Located in Los Angeles, CA, with a warehouse that ships to all United States, Puerto Rico, and other US territories the company serves its consumer customers through its retail Websites and focuses on immediate shipping, selection, price, and convenience. Further, it brands its own environmentally friendly ink & toner cartridges. Visit them at http://www.inkjetsuperstore.com
###