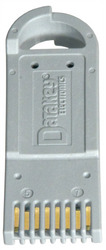 Savage, MN (PRWEB) November 3, 2010
Datakey Electronics' new High Capacity Line of portable memory tokens combines the high capacity and high throughput of consumer memory products (like USB flash drives/thumb drives and SD cards) with Datakey Electronics' rugged packaging, reliable operation, unique form-factors, and high cycle-life/harsh environment receptacles. These features allow embedded system designers to incorporate high capacity memory devices into their designs, without the shortcomings that consumer-focused solutions bring.
The High Capacity Line of re-programmable memory devices includes two families of memory tokens: the DFX Series, which delivers a high-performance Secure Digital (SD) interface (including SPI); and the UFX Series, which delivers a USB 2.0 High-Speed interface. Both series come standard with 4GBytes of non-volatile memory, with larger capacities (up to 32GBytes) available. With SPI, SD and USB interface options, these new memory tokens are easily integrated into embedded controller, single board computer, and industrial PC designs, as many of these devices come standard with one or more of these serial interfaces. Integration is straightforward and is typically accomplished by simply adding one of Datakey Electronics' industrial-rated mating receptacles.
Utilizing Datakey Electronics' robust SlimLine™ token form-factor design allows the DFX and UFX tokens to leverage the entire line of SlimLine™ receptacles, providing OEMs with a complete data-carrier system. The High Capacity Line of receptacles features multiple mounting options including through-hole, surface-mount, and panel-mount versions. Panel-mount options are available in IP65 ("splash-proof"), IP67 (immersion), and EMI reduction versions to meet the needs of harsh environment applications. All of the receptacles are rated for 50,000 cycles and withstand shock & vibration, extreme temperatures, humidity, salt-fog environments and exposure to various chemicals.
The High Capacity Line's DFX and UFX rugged memory tokens differ from SD cards and USB flash drives in three important ways:

The memory tokens utilize Datakey Electronics' solid over-molding process and are constructed out of an ultra-rugged composite plastic material. This makes the tokens impervious to penetration by liquids and practically crush-proof.
The memory tokens utilize Datakey Electronics' proven SlimLine™ contact system. Their mating receptacles have a high cycle-life rating of 50,000 cycles, compared to just 1,500 cycles for most USB Type A receptacles. At just 10-cycles per day, a USB Type A receptacle will hit its rated cycle-life in only five months. At the same 10-cycle per day rate, the SlimLine™ receptacle won't hit its rated cycle-life for more than 13-years! Additionally, several of the SlimLine™ receptacles are available in IP65- and IP67-rated versions, making them an ideal choice for wash-down, outdoor, or other harsh environments.
The memory token's unique form-factor means that it can't plug in to "just any" PC, which helps to protect the data on the token. The unique form-factor can also prevent consumer devices from plugging into the OEM system, which helps protect that system from unauthorized access, and prevents malicious files (like viruses) from being uploaded. The token's controlled availability virtually assures that only approved devices are used in the OEM system and provides the OEM with an additional revenue stream from the sale of memory tokens to their users.
"For more than 30 years, industrial, medical, and government OEMs worldwide have relied on our rugged, portable memory systems," stated Brian Mishuk, BD Engineer at Datakey Electronics. "Increasingly, designers need a data-carrier system that has the high capacity and high throughput characteristics of consumer devices, with the field-proven ruggedness, reliability, uniqueness and environmental performance of our catalog OEM products. Our new High Capacity Line gives our customers all those aspects, which are not only essential to their applications, but that also simply cannot be found in consumer memory products like USB flash drives and SD cards. In addition, the new High Capacity Line opens new revenue streams for our customers while also reducing their ongoing engineering support costs."
Visit http://www.datakey.com/hcl for a full comparison between the High Capacity Line, consumer memory products, and other Datakey Electronics offerings. All Datakey Electronics' memory tokens are available in multiple colors and have private label options to increase OEM branding. Simple PC adapters and development kits are also available by contacting the factory. OEMs who would like pricing, availability, samples or more information on the High Capacity Line of memory tokens and receptacles are encouraged to contact the Datakey Electronics factory at info@datakey.com or 1-800-328-8828 (+1-952-746-4066).
Datakey Electronics will also be displaying the new High Capacity Line at the Electronica Fair in Munich, Germany from November 9 – 12, 2010 (Hall A6, Booth 617).
About Datakey Electronics:
Datakey Electronics manufactures rugged, portable memory keys and tokens and their mating receptacles. Since 1976, Datakey Electronics has delivered complete portable memory solutions for industrial, medical, military, and commercial applications, providing a cost-effective and reliable way of storing and transporting electronic information where conventional methods would not survive. In addition, Datakey Electronics exclusively serves Original Equipment Manufacturers (OEMs), providing benefits those OEMs cannot find in portable memory products focused on the consumer market.
Datakey Electronics, Inc. has built a world-wide base of customers that include General Dynamics, Rockwell Collins, Thales, Raytheon, Cisco Systems, Mars, St. Jude Medical, Siemens, Tyco Healthcare, Gilbarco, governments and many other multi-national corporations. Datakey Electronics, Inc., based in Savage, MN, is a vertically-integrated minority woman-owned small business, designing, molding and assembling all of its products in its own custom-built factory.
Contact:
Paul Plitzuweit, Business Development Engineer
Phone: 1-952-746-4066 Extension 325
Fax: 1-952-746-4061
###