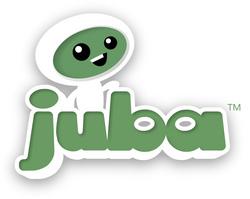 "Juba™ allows young children to explore, make connections, and create—key components that help imprint knowledge in the brain," said Jacques Driscoll, CEO, Six Red Marbles. "And, we designed it to be kid-friendly, teacher-friendly, and parent-friendly."
Charlestown, MA (PRWEB) November 4, 2010
Six Red Marbles announces program upgrades to Juba™, an online whole-brain learning adventure for children ages 3–6. Juba™ (http://www.sixredmarbles.com/juba/) immerses children in a multi-sensory experience of imagination and discovery, nurturing their natural desire to explore, create, share, and learn. Correlated to NAEYC, Head Start, NCTM, ISTE NETS, and Common Core learning standards, the program supports instruction in language development, literacy, math, science, and the creative arts.
Using Juba™ children can explore 2,000 real life images from around the world that include sound effects and main idea labels, more than 1,500 STEM related fun facts and inquiry based questions, approximately 700 interactive activities correlated to learning standards, and a tool kit that allows for painting, drawing, typing, and audio recording—giving children the opportunity to express their knowledge through representational work.
Juba™ upgrades include:

Spanish/English toggle, integrated directly into the program, for all labels, activities, and audio fun facts. This unique option, which eliminates the need for two distinct versions, allows children to begin to learn a second language.
Parent Connection, allowing parents and their children to access the program at home or anywhere, with login information provided by the teacher. Teachers also are able to email parents images of their child's work, along with teacher notes and messages, so parents can see their child's creativity and development.
Standards Tags, so teachers can "tag" student pages against the different early education standards. Standards covered can quickly be reviewed in the Teacher Dashboard. This feature assists teachers in assessing their students' growth.
Juba™ was developed by Six Red Marbles, an award-winning developer of multi-media teaching materials for McGraw-Hill, Houghton Mifflin Harcourt and Pearson. The program integrates the latest neuroscience research on how children learn with time-tested traditional teaching methods and interactive online discovery—resulting in fun, engaging learning experiences.
Juba™ can be used for child-directed or teacher-lead instruction—individual, small group, and whole class. The Teacher Dashboard provides real-time tracking of student progress as they complete standard-aligned activities. The digital portfolio feature includes student's multimedia creations, demonstrating growth over time. Juba™ is online, supported by a cloud-based architecture, and can be accessed anywhere and anytime, helping to foster school and home connections.
For a free trial and pricing information please visit http://www.sixredmarbles.com/juba/.
Six Red Marbles is an award-winning provider of educational solutions for the
K–12 market. Founded in 1996, the company has developed hundreds of creative, effective multi-media educational materials for leading publishers including McGraw-Hill, Houghton Mifflin Harcourt and Pearson. Its programs have won awards from the Software & Information Industry Association, Technology & Learning Magazine, and the Association of Educational Publishers.
In 2010, the company released its own learning programs based on its Natural Learning Approach, which uniquely integrates the latest neuroscientific research on learning with time-tested teaching methods and interactive online delivery. The approach—which is sensitive to why we learn, what we learn, when we learn, how we learn and where we learn—creates fun learning environments that inspire kids and put them on personal paths to success. More information is available at http://www.sixredmarbles.com.
###