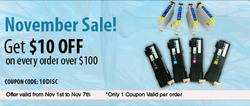 (Vocus) November 3, 2010
To start the holiday season with the right foot, Inkjetsuperstore Canada is holding this week a $10 discount on purchases over $100. People can choose from more than 5,000 items on stock and take advantage of the sale by using at checkout the coupon code: 10DISC
"Online printer ink purchasing should be easy and affordable, reason why Inkjetsuperstore Canada will be featuring different discounts on a weekly basis to help customers get ready for heavy holiday printing and save the most on their printer ink," said Maria Pia Lopes, Marketing Analyst at Inkjetsuperstore.ca
Included in the deal are OEM ink and toner cartridges, remanufactured and compatible cartridges from brands such as HP, Brother, Lexmark, Samsung, Xerox, Canon, Toshiba, Dell, IBM, Sharp, Kodak and many others. In order to find the right cartridges among the 5,000 different items, the website has an Ink & Toner Finder application that allows users to select from a drop down menu the printer brand, series and model. Results provide the different types of printer ink available that is OEM cartridges or aftermarket alternatives and gives customers the opportunity to compare prices.
Inkjetsuperstore Canada brands their own aftermarket alternative cartridges with the same or higher quality than Original ink and toner cartridges. Their ISO-9001 certified factories provide high quality products and are guaranteed for an entire year. Using remanufactured and compatible cartridges allows people to save substantially with out compromising printing results.
Along with the sale Inkjetsuperstore Canada has another discount on all products available at their site. Visit them to get the coupon code for 5% OFF on all products.
About Inkjetsuperstore Canada
InkjetSuperstore Canada is an online reseller of ink cartridges delivering to all Canadian territory. They offer remanufactured, compatible, and OEM cartridges from all major brands. Over 700.000 choose them for their ink and toner needs. InkjetSuperstore Canada backs all their remanufactured products with a 100% Satisfaction guarantee. To purchase right now go to http://www.inkjetsuperstore.ca.
###