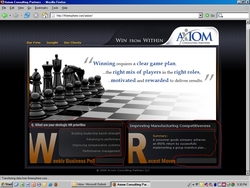 Once again, Axiom is pleased to be releasing an important piece of thought leadership by our colleague Shannon Sullivan in workspan magazine
Chicago, IL (PRWEB) November 4, 2010
Axiom Consulting Partners LLC announced today that WorldatWork, has published its article titled "Developing Women Leaders Through Grassroots Mentorship" in the November 2010 edition of workspan magazine.
"Once again, Axiom is pleased to be releasing an important piece of thought leadership by our colleague Shannon Sullivan in workspan magazine," said Steve Strelsin, President – Axiom Consulting Partners. "WorldatWork is the preeminent organization for total rewards practitioners and we are pleased that Axiom's latest article on how to accelerate the development of high-potential leaders has found a place in November's issue."
The article features a case study of a women's mentorship pilot program at a leading global next-generation mobile technology company. The case study offers a practical approach for how organizations can realize the greatest potential from mentoring initiatives while avoiding common pitfalls. Readers will learn about a two-pronged approach (both qualitative and quantitative) to pairing mentors and mentees that adequately accounts for the often overlooked relationship aspect of mentoring. The case study also introduces a framework that mentors and mentees can use to structure their conversations around the various dimensions of personal growth and development. The key learnings from the program - importance of selecting the right mentors and mentees, setting an appropriate foundation upfront, and providing ongoing support to participants in the program – have application beyond women leaders and can be tailored to almost any employee group, regardless of gender or organizational level.
'Developing Women Leaders Through Grassroots Mentorship' is available for download at Axiom's website.
About Axiom Consulting Partners
Axiom Consulting Partners is a management consulting firm whose passion is helping companies improve their results by aligning strategy, organization and talent. Axiom takes a practical, fact-based approach to analyzing and solving complex business issues believing that serious disconnects commonly exist between the boardroom, middle management and the front-line, obscuring the path to success. Axiom helps companies remove these disconnects, enabling better execution of their business strategy, and resulting in a dramatic improvement to their financial performance.
About WorldatWork
WorldatWork is the world's leading not-for-profit professional association dedicated to knowledge leadership in total rewards, compensation, benefits, and work-life. Founded in 1955, WorldatWork focuses on human resources disciplines associated with attracting, motivating and retaining employees. Besides serving as the membership association of the professions, the WorldatWork family of organizations provides education, certification, publications, knowledge resources, surveys, conferences, research and networking.
# # #