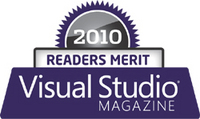 We are proud to win this merit award for Best Web Hosting because it is the collective voice of real-world Visual Studio developers
Pasadena, CA (Vocus) November 4, 2010
ASP.NET web hosting and Team Foundation Server hosting provider, DiscountASP.NET, proudly announces receiving the Best ASP.NET Web Hosting merit award from leading technology publication, Visual Studio Magazine in their 2010 Readers' Choice Award.
With more than 400 developer products compiled, Visual Studio Magazine turned to its readers to vote for the most valued third-party tools and services in the Visual Studio and Microsoft .NET Framework development space which represent key technologies and advances that will impact developers in the years to come. For this year's Readers Choice Awards, there were 29 categories, including web design and development tools, application lifecycle management and .NET web hosting.
"We are proud to win this merit award for Best Web Hosting because it is the collective voice of real-world Visual Studio developers," added Takeshi Eto, DiscountASP.NET Vice President of Marketing and Business Development. "Our mission is to provide cutting edge hosting services for the Visual Studio developer – both web application hosting and source control hosting."
About Visual Studio Magazine
Visual Studio Magazine is the world's leading independent Microsoft development magazine, serving the enterprise development reader -- software architects, senior developers and development managers. Each issue includes practical, proven, unbiased how-to articles readers can put to use immediately. VisualStudiomagazine.com offers all the content of Visual Studio Magazine online plus exclusive news, online-only how-to, extensive code downloads, blogs and plenty of ways for developers to interact with the editors, each other and the larger community. For more information: http://www.visualstudiomagazine.com
About DiscountASP.NET
DiscountASP.NET is an innovative global leader in hosting for .NET developers, focused on providing the best value in ASP.NET web hosting and Team Foundation Server hosting. A Microsoft Gold Certified Partner, DiscountASP.NET recently launched Team Foundation Server hosting as a SaaS solution. As a leader in bleeding edge ASP.NET web hosting, DiscountASP.NET supports Windows 2008 R2, SQL 2008 R2, web deploy, IIS remote management, URL rewrite, and IIS smooth streaming. Through strong word-of-mouth and their commitment to ASP.NET technology, DiscountASP.NET has become the choice for affordable enterprise-class ASP.NET web hosting and TFS hosting. For more information, visit http://www.DiscountASP.NET
All trademarks are the property of their legal owners.
###