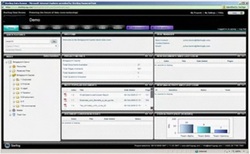 that we have set the new bench mark in virtual data rooms
Australia (PRWEB) November 4, 2010
Global Kap, the leader in sales process and document solutions, has introduced Virtual Data Rooms (VDR) to specifically facilitate mergers & acquisitions, due diligence, IPOs across the globe. You can use our VDR to perform more efficient, in-depth due diligence with less risks in your deals.
Ease of use and the "drag and drop" interface enables all users of the VDR quick access to the information they are interested in validating. It enables users to manage their due diligence for intricate transactions & bids, public finance initiatives (PFI), public private partnerships (PPP), and initial public offerings (IPO).
Mr. Fenley, global consultant at Global KAP says: "Our Virtual Data Rooms" is the industry's most user-friendly and powerful online data room. The Adobe LiveCycle is what the US government use for document security. This saves time and provides security on all your documentation loaded into the VDR. Our VDR allows more in-depth due diligence minimizing the risk of over paying in your deals or missing bidder involvement. This product has broken all the barriers to entry in different markets of the world and we anticipate it working in every single country. We have been told by one of the top private equity funds in the world based out of New York, "that we have set the new bench mark in virtual data rooms" "
Virtual Data Room (VDR) Highlights:

Highly secure confidential information.
Neat & Simple user interface.
No training or manual is needed.
Store and distribute confidential information to contributors and bidders.
Adobe LiveCycle is the latest technology.
Easy to use interface with Drag & Drop functionality.
Competitive pricing for each data room.
24/7 customer services available for all data rooms.
Permission based access to control the VDR environment.
Enables you to perform different kinds of transactions, for example, M&A, PPPs, PFIs IPOs
Provides facilities for timely delivery of time-critical projects.
Adding or removing any kind of content is easy.
Assists in sharing business or deal documents with the second party quickly and securely.
Replaces the document filing system with a secure, completely searchable, and central document repository.
It provides flexibility in Q&A workflows and allows either a simple Q&A workflow, or a standard Q&A workflow.
About Global Kap
Global KAP was established to provide organizations with solutions in their sales revenue processes and documentation solutions. Knowledge management and intellectual property (IP) have been recognized as valued resource. Global KAP establishes the processes of managing your knowledge, your IP your most precious information in your organization.
Our specialized team of consultants at Global KAP help organizations by providing solutions which address their requirements. For your organization to gain competitive advantages and efficiencies in the sales process, revenue generation, documentation creation and management, speak to our consultants.
Our consultants come from all Industry sectors such as IT, communications, defense, government, finance, health, infrastructure, engineering, and many more. Our consultants share their knowledge and support with our clients on a global basis to make your lives easier. To find out more visit http://www.globalkap.com
###