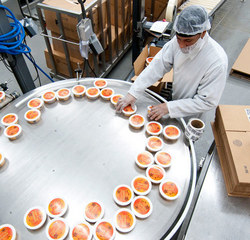 "The growing need for nutritional foods in the public and private school sectors, institutions, food service and retail deli settings is driving our initiative at Hot Mama's Foods to develop and supply superior lines of fresh salads."
Auburndale, MA (PRWEB) November 4, 2010
A new Prepared Salads Program will be introduced by Hot Mama's Foods at the Private Label Manufacturers Association Show (PLMA) in Chicago from November 14- 16.
To launch this nutritious breakthrough program, Hot Mama's Foods will feature healthy coleslaw, confetti corn and lo mein salads. The full line of salads, including three bean, chick pea, and a variety of pasta salads will be available for production following the PLMA show. The new salad line will be available in vacuum-packed bags to ensure maximum freshness and ease of handling and storage.
According to Matt Morse, President, "The growing need for nutritional foods in the public and private school sectors, institutions, food service and retail deli settings is driving our initiative at Hot Mama's Foods to develop and supply superior lines of fresh salads."
Morse added: "These products are designed specifically to meet the requirements for school nutrition. Our new health-focused salads are all created from produce; natural spices, seasonings, oils and premium pastas and do not contain any artificial additives whatsoever."
Unique, gourmet solutions have been driving Hot Mama's for nearly 25 years. Hot Mama's Foods is a leading specialty food manufacturer, co-packer and private label resource for innovative organic, all-natural, and conventional foods. The company has proven expertise producing a broad range of private label hummus, salsas, pestos, dips, sauces and spreads.
In addition to innovative and comprehensive culinary skills, Hot Mama's Foods offers dedicated customer services that include: JIT Programs, R&D, Organic, Natural, Extended Shelf Life and USDA products in a range of packaging.
Visit Hot Mama's Foods in Booth 3440 at Chicago's Rosemont Convention Center from November 14-16 during the 2010 PLMA Show.
Online at hotmamasfoods.com
###