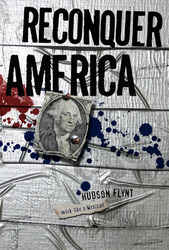 Stay free, my friends. -Hudson Flynt
New York, NY (PRWEB) November 3, 2010
Hudson Flynt describes in his new book seven things Americans must do now to restore America; starting with "Work Like a Mexican". He believes there is an imbalance of focus toward election days and not daily life after elections. Flynt says, "You see, the election is the wedding day and the reconquer America movement is a lifetime marriage." Flynt's book breathes life into his assertions and gives individual-focused advice in sections called "Yes, I can!" Look out Obama!
Do not read Chapter 4, "Survive Like Jews, Overcome Like African Americans," if you are smug about race relations. Flynt takes you down a path that moves you to intrigue, anger and amazement. He frankly and strongly reprimands those whom he finds dragging down America with racial tensions. Flynt directly addresses the impression that some Whites are sneaky, backstabbing, and silently racist as he continues discussing beliefs that some Blacks are lazy, loud, and ludicrous with their statements of inequality.
Flynt does not forget the economy. Throughout his book, he offers solutions designed to plug the leaks that weaken individuals, thus the American economy. In the Appendix, you will find solutions on how to get a job, get a raise or promotion, why starting a business now is the perfect time, and restarting a business makes perfect sense.
Work Like a Mexican? Love your wife; spank your children? Don't help the most needy first? Study Like Chinese? Run your family like a business? Question: Who is this enigmatic Hudson Flynt? Answer: There is much to him and his reconquer America movement that even surprises the most insipid.
Surprisingly, Reconquer America is devoid of politics. How can this be since the book's bibliography references Rush Limbaugh, Neal Boortz, Mark Levin, Sean Hannity, Newt Gingrich, Dick Morris and more? These popular conservative names gave the construction of Reconquer America a socially conservative approach. In reading the final version of Reconquer America the answers to all questions became apparent.
Reconquer America is found to be a no-nonsense, in-your-face portrayal of modern America. Through the eyes of Flynt, readers will grow to understand the power of family and friend associations called "contagions." Reconquer America builds a patriotic crescendo in which Americans are encouraged to innovate through recession, be excellent in all, and celebrate everything that makes individuals and our nation great.
Reconquer America is not just a book but a strategic start to its grassroots movement. Reconquer America, a never-ending story is just a few short months away! Anyone can have their name written in 'e-lights' as contributing author. This subject-based blog compiles the most compelling arguments to reconquer America and presses them monthly in an ebook for all to read. Flynt encourages all to contribute thoughts, solutions, and personal stories and become an author.
Hudson Flynt's patriotic confidence is shown through the signature statement that closes all his writings: "Stay free, my friends."
###