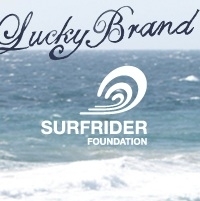 Surfrider encompasses a cause that we believe in and it's deeply rooted in Southern California culture and history – just like Lucky Brand
Los Angeles, CA (PRWEB) November 3, 2010
Surf's up at Lucky Brand, a clothing company best known for its quality, vintage-inspired jeans. On November 8, 2010, starting at 12:00 AM Lucky Brand will donate $20 for every online purchase made at LuckyBrand.com to the Surfrider Foundation, an environmental non-profit dedicated to protecting the world's oceans and beaches from pollution and preserving delicate marine ecosystems.
This is the first time the clothing company and Surfrider Foundation will join together to battle beach pollution. "Surfrider encompasses a cause that we believe in and it's deeply rooted in Southern California culture and history – just like Lucky Brand," says Lucky Brand Vice President of Online Marketing, Charlie Cole. "Our goal is to raise $10,000 to $30,000 that will go towards protecting coastal environments," Cole relays.
There will be no minimum purchase required - every online order will raise the same $20 amount for Surfrider. The promotion ends at 11:59 PM on November 8, 2010.
About Lucky Brand:
Lucky Brand is true blue American. Born and bred in Los Angeles, Lucky shipped its first pair of vintage-inspired jeans in 1990 and quickly became known as a pioneer and innovator in the world of modern denim. Lucky Brand designs and markets a full range of great fitting, good quality, distinctively Lucky men's and women's jeans and fashion that work with the American lifestyle. Lucky Brand collections are carried at better department and specialty stores, online at LuckyBrand.com, and at over 110 company-owned stores in the U.S.A. and three internationally.
About The Surfrider Foundation:
The Surfrider Foundation is a non-profit grassroots organization dedicated to the protection and enjoyment of our world's oceans, waves and beaches. Founded in 1984 by a handful of visionary surfers in Malibu, California, the Surfrider Foundation now maintains over 50,000 members and 90 chapters worldwide. For more information on the Surfrider Foundation, go to http://www.surfrider.org.
# # #