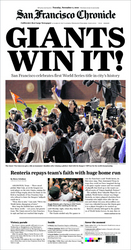 The Chronicle is pleased to be able to offer Giants fans this commemorative package of our in-depth coverage and hard-hitting photos, including the limited-edition EXTRA editions
San Francisco (Vocus) November 3, 2010
The San Francisco Chronicle will offer a special, commemorative package of its coverage of the San Francisco Giants victorious playoff run, culminating with the 2010 World Series championship. The package includes the complete Nov. 2, 2010 San Francisco Chronicle newspaper covering the World Series championship and three EXTRA editions sold during the playoffs. These include the eight-page "To The Series" EXTRA, the eight-page "Giants Clinch" EXTRA and the eight-page "Celebration" EXTRA. Purchasers may also buy a souvenir t-shirt, featuring the front page of the November 2 newspaper.
"The Chronicle is pleased to be able to offer Giants fans this commemorative package of our in-depth coverage and hard-hitting photos, including the limited-edition EXTRA editions," said Chris Blaser, senior vice president, circulation. "The excitement in the Bay Area for the Giants World Series victory is contagious. This package will help fans capture that excitement for years to come."
The package is available online at SFGate.com.
The Chronicle is the Bay Area's leading source for in-depth, hard-hitting coverage of Bay Area sports. From year-round coverage of the Giants to stories and expert opinions from a one-of-a-kind lineup of columnists following all Bay Area teams, The Chronicle offers the most comprehensive coverage of sports in the region.
###