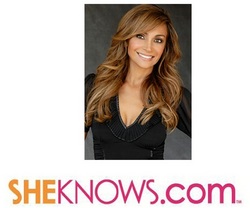 "The SheKnows editors have sought out the best of the best in the various fields of beauty, food, health, living and love to make up the team of SheKnows Experts," stated Alison Bills, Managing Editor for SheKnows. "This panel of down to earth, budget-sa
Los Angeles, CA (PRWEB) November 3, 2010
Today it was announced that nationally-recognized TV host, Beauty and Mommy-Lifestyle expert Nina Sutton (http://www.NinaSutton.com) was named the Official Beauty Expert for SheKnows (http://www.SheKnows.com) - one of the top 3 women's properties on the web. The SheKnows Experts, a panel of highly-regarded authorities in their fields, have each been hand selected by the SheKnows editors to represent the SheKnows community. Nina is one of 5 nationally renowned experts awarded with this prestigious position.
Nina Sutton will share practical advice and some of the best tips and tricks on beauty for every woman at any age. Her Beauty Expert column will cover everything from easy and affordable tips on skincare, to picking the best fragrance, taking care of your hair, seasonal makeup and so much more.
In 2008, Nina authored The Chic Mom's Guide to Feeling Fabulous, a guide to help moms and real women feel great in all aspects of their lives including beauty, fashion, fitness, relationships with friends, spouses, children, and shopping on a budget. She's since become the leading expert for educating mothers on how to regain their self-confidence and look great despite having little to no time for themselves. Nina's next book, Simply Gorgeous, will launch later this year.
"The SheKnows editors have sought out the best of the best in the various fields of beauty, food, health, living and love to make up the team of SheKnows Experts," stated Alison Bills, Managing Editor for SheKnows. "This panel of down to earth, budget-savvy experts ties in seamlessly with our SheKnows audience and allows us to offer a higher level of rich content to our loyal readers. We found Nina to have an impeccable eye for style and all things beauty, and we love how her tips offer affordable and functional options for the everyday woman."
Nina's mission and life work is to help empower women around the world by teaching them how to feel good both inside and out.
"It's truly an honor to be a part of the SheKnows family and included amongst a panel of such impressive experts and national thought-leaders. I'm so thrilled to help women from all walks of life and let them know that you don't need a million dollars to look and feel good about yourself. Working with SheKnows and being able to reach so many women is a real dream come true," says Nina Sutton.
About Nina Sutton:
Nina Sutton (http://www.NinaSutton.com) is a beauty and mommy-lifestyle expert. She is also the former host of Walmart's Pretty.Smart (online and in-store). Nina gives easy, real world and affordable beauty tips on skincare, fragrance, hair care, makeup and more. Nina is a wife and hands on and mom to two active boys age 4 ½ and 3. In 2008, Nina wrote the book The Chic Mom's Guide to Feeling Fabulous, a guide to help moms feel great in all aspects of their lives from beauty, fashion, fitness, relationships, budget shopping and even running a household. L'Oreal sponsored her book signing with a mommy makeover and cocktails night out- and Nina was even featured in a Naturalizer Catalogue as a Devoted Mom and Fashionista. Her next book, Simply Gorgeous, will launch later this year. Nina has appeared as a beauty and lifestyle expert on many shows including The Doctors, The Tyra Banks Show, TV Guide Channel, ABC's View from the Bay, Fox News, CBS News, NBC's The 10! Show and numerous BetterTV specials. She has also been interviewed by numerous online, radio and print media outlets, including but not limited to Family Circle, Family First, MSN, About.com, Pregnancy Magazine and Parenting Magazine. You can learn more about Nina by visiting http://www.TheChicMomsGuide.com or http://www.NinaSutton.com.
About SheKnows.com:
Getting to the heart of what it really means to be a woman, SheKnows (http://www.SheKnows.com) attracts nearly 45 million unique visitors (Google Analytics, March 2010). With editors dedicated to providing daily content for women seeking advice, information and a fresh, fun take on life, the site is an authoritative source for women ages 18 to 54. The SheKnows audience gains access to exclusive content on entertainment, parenting, health and wellness, money and career, dating, beauty and style and more, and are offered a stimulating, well-rounded online experience enhanced with a vibrant message board community, free games and activities and captivating blogs.
As one of the fastest-growing destinations on the web, SheKnows is consistently one of the top 3 properties for women. For advertisers, opportunities for sponsorship and creative integration go well beyond the banner and make marketing messages an uninterrupted part of the user experience. The company is based in Los Angeles with offices in New York, Scottsdale and Chicago. SheKnows is part of AtomicOnline (http://www.AtomicOnline.com), Evolve Media's publishing unit.
MEDIA INQUIRIES:
Shannon Donnelly
Account Executive
LCO - Levine Communications Office Inc.
1180 S. Beverly Dr. 3rd Fl.
Los Angeles, CA 90035
E. SDonnelly(at)LCOonline(dot)com
T. 310.300.0950 x245
F. 310.300.0951
http://www.LCOonline.com
http://www.twitter.com/LCOonline
# # #