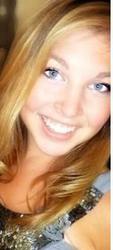 Wilmington, NC (Vocus) November 5, 2010
Little Caesars to donate 10% of its sales on November 6th, Saturday to support Lauren Aubree's NYC trip to America's Got Talent Tryouts.
15 year old Lauren Aubree, a resident of Wilmington, North Carolina, is qualified to try out for America's Got Talent in New York City. Her dream come true…. if only she could get there. Lauren, her autistic brother and 6 year old twin brothers are being raised by a single mother. Times are tight, and there just isn't enough room in their household budget to send Lauren to NYC. In October, the city of Wilmington was taken by storm as she performed live on the Foz in the Morning Show on Z107.5 and from there, the community has come together to support Lauren and her quest to become the winner of the America's Got Talent competition.
Little Caesars of Wilmington was one of the first of many sponsors to come forward. On November 6th, Saturday from 11am – 2pm, Lauren will be performing at Little Caesars at the UNCW location, University Drive (Across from UNCW.) There will be plenty of kid friendly activities, balloons, Lauren's CD and plenty of photo opportunities of Lauren and a community coming together to support one of their own. Little Caesars will donate 10% of sales on that day to help with Lauren's travel expenses to NYC.
Thanks to our many sponsors and Creative Edge Studios, http//:http://www.LaurenAubree.com was created to bring the community together and help Lauren get to New York to represent Wilmington, North Carolina at the America's Got Talent competition. The website was not only put in place for donations but also to update all of her supporters and fans on her ongoing accomplishments.
Lauren is a stand-out teen who's distinctive voice will rise above the rest reaching everyone who hears it, and whose tender heart reaches all those with special needs. Donations are also accepted at any SunTrust branch!
About Lauren Aubree:
As a preschooler Lauren was the youngest extra on the set of "Dawson's Creek", a previous WB TV show. In kindergarten she placed 2nd in the STATE for her original artwork in the State PTA Reflections competition. She started playing violin in the 6th grade, and in middle school was a standout in the orchestra, featured as a soloist on her "hot pink" electric violin. In 8th grade she was the only girl from her school to make the All-State Orchestra, and her instructor said Lauren was unique because she was the only one to advance without ever having private lessons.
At 11 years old, Lauren was the youngest person ever hired to perform the National Anthem at Legion Stadium in Wilmington, North Carolina, and sang for the professional home soccer team, The Hammerheads. Now, at 15, Lauren plays 4 instruments...Violin, guitar, Ukulele and keyboards. Lauren also writes/composes her own original music, and has a distinctive and identifiable voice with her own sound and style. Her mother has been her only vocal coach. Her talent in music does not keep her from being an Honor Roll student at Ashley High School. Also Lauren has a heart and passion for giving back. This past summer she volunteered at a summer camp for blind and deaf children, and will be a teen counselor next summer for special needs children. Lauren is the type of teenager we want representing this community! She is destined to be a star.
About Little Caesars:
Little Caesars of Wilmington is a locally owned and operated franchise by father and son team, Randy and Brad Carter. They have been serving the Wilmington area since 2007 and currently have 3 locations. Little Caesars is home of the $5 HOT-N-READY® large pizza. Little Caesars' HOT-N-READY® pizza is a large, 14" pepperoni or cheese pizza that's
ready when customers are, with no waiting or need to call ahead, for just $5.00.
Lauren's Sponsors:
Suntrust, The Soapbox, Friedman Chiropractic, Chews-4-Health, Creative Edge Studios, Foz in the Morning Show, z107.5, The Cape Fear Studio, Little Caesars, Bangz, The Dessert Divas, Savanna Taylor Photography, torri/bell and Azalea Limousine Service
For Media inquiries:
Kristine Weil
1-330-933-8202
###