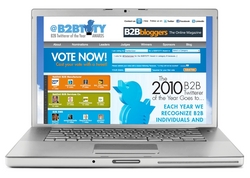 This isn't a social media popularity contest
Atlanta, GA (PRWEB) November 4, 2010
One hundred and forty characters may not be a lot of space, but if you're a business-to-business marketer who's been using that space to help your business, it could be enough to win you an award.
The B2B Twitterer of the Year (B2BTOTY) Awards, the brainchild of B2B marketer Joseph Zuccaro (@joezuc]), honor individuals and organizations for outstanding contributions in the promotion and use of Twitter in B2B marketing.
"This isn't a social media popularity contest," said Zuccaro, president of the marketing automation services provider Allinio and a member of the B2BTOTY Steering Committee. "These awards only go to qualified, deserving nominees. The judging panel is full of experienced industry veterans, and the focus is exclusively B2B."
The awards encourage B2B marketers and social media stalwarts to tweet at the top of their game all year round. Nominations and votes are submitted via tweet at http://www.B2BTOTY.com. The deadline for both is December 18th.
The website, a new addition to this year's awards, was designed by Jeremy Victor of Make Good Media (@JeremyVictor) and MLT Creative (@mltcreative).
The B2BTOTY steering committee is comprised of a growing list of B2B marketing experts, including Ardath Albee (@ardath421), the author of eMarketing Strategies for the Complex Sale; Kent Huffman (@kenthuffman), co-publisher of Social Media Marketing Magazine; and Ann Handley (@MarketingProfs), chief content officer of MarketingProfs.com. Among the judges are such notables as Chris Herbert (@B2BSpecialist), founder and CMP of Mi6; Galen DeYoung (@GalenDY), managing director of Proteus B2B; and Antonio Altamirano (@antonio), founder of Tangelo.
Expanded categories for this year's awards include: Local/Regional B2B Company – Local B2B Manufacturer ; Local/Regional B2B Company – Services; National/International B2B Manufacturer; National/International B2B Services Company; B2B Trade Association; B2G Company; "Boss Tweet" B2B Personality; B2B Publications; Business Journalists; and B2B Twitter App.
Winners will be announced in early February 2011, but if your microblogging expertise is limited to telling the Twitterverse what you had for breakfast, don't expect to be among them.
"These awards are not about how often you tweet," Zuccaro said. "They're about integrating a revolutionary social tool into the daily operation of your business, and using it to evolve your company into a more social enterprise that serves your audience."
For more about the B2BTOTY Awards, visit http://www.B2BTOTY.com.
###