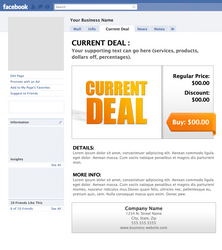 Right now Facebook is like a neighborhood full of white houses with blue trim. SplashTab gives businesses a way to create more curb appeal with pages that express personality and brand identity." said Geoff McDonald, Partner
Bozeman, MT (PRWEB) November 8, 2010
SplashTab is a new online application that simplifies the process of creating custom landing tabs for Facebook Pages. The app gives businesses an affordable way to customize pages without any programming expertise – making it a great option for organizations of all sizes.
Located at SplashTab.com, the online tool lets Facebook Page administrators create tabs using custom logos, graphics, photos, links and messages that can be loaded onto Facebook Pages in minutes. SplashTab can generate branded welcome tabs, special offer promotions, new product showcases and much more.
"Right now Facebook is like a neighborhood full of white houses with blue trim," said Geoff McDonald, Partner "SplashTab gives businesses a way to create more curb appeal with pages that express personality and brand identity."
The app's affordability makes it a compelling option for businesses of all sizes. SplashTab offers a free 14-day trial and paid packages are priced at $6.95 per month, $19.95 for six months or $34.95 annually. Once a package is purchased, page administrators can update a tab's layout and content as frequently as they like.
Similar to popular e-mail marketing programs, the first step in creating a custom tab is choosing a template. SplashTab offers more than 20 template designs that can be customized as much or as little as desired with custom headers, footers, images, text and links. Every image can be linked to a URL and alternative text descriptions can be added to each image contributing to search engine optimization. Once the tab is ready to publish, SplashTab requests a Facebook Page URL and then redirects users to Facebook where they can add the tab to their page.
"Until recently, custom tab creation has required some knowledge of programming," said McDonald "We've taken the complexity out of the process so that any page admin can create and load tabs to set their page apart."
Page admins can select a custom tab as the default landing tab in Facebook's settings so it is the first thing new visitors see when they visit the page.
SplashTab is designed to work with official Facebook Pages and does not support individual profiles or groups.
###