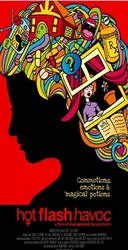 "Menopause touches every woman and all families," said the film's co-producer Heidi Houston. "I'm delighted that Fort Lauderdale International Film Festival realizes the significance of our film and the importance of not keeping this subject under wraps
Los Angeles, CA (PRWEB) November 4, 2010
Co- producers Heidi Houston and long-time South Florida production veteran and native Gary Jaffe - filmmakers of Hot Flash Havoc (http://www.HotFlashHavoc.net), had their film selected to screen at the 25th annual Fort Lauderdale International Film Festival (http://www.fliff.com/about.asp). The documentary will be shown at the Cinema Paradiso located at 503 SE 6th St., Ft. Lauderdale, FL on November. 11, 2010 at 6:00 p.m.
Hot Flash Havoc's current production office is based in Aspen, CO., but the film has deep roots based in South Florida and was the launching pad of the creative impetus behind the film. Co-producer Gary Jaffe, a long-time South Florida native and production company owner since 1991, graduated from the University of Florida in 1986 and is a current Hollywood (FL) resident. As a result, most of the film's operations were spearheaded along with being edited in his Hollywood production office. The film's initial research was completed by his wife and associate producer, Dr. Jacqueline Jaffe, which yielded over 150 hours of expert interviews whose transcripts formed the basis for the initial draft of the film. From there, the film went into production on a 4 month, 13 city nation-wide High Definition shoot as the production interviewed over 30 leading medical experts specializing in women's health, research and wellness while documenting 10 women and their varied experiences and perspectives on their journey's through and beyond menopause.
"Women want accurate information that is easy to understand from credible sources, so that they can feel prepared to have a conversation with their health care provider about their own needs. That is what we hope to have accomplished with Hot Flash Havoc," said Gary Jaffe.
Hot Flash Havoc has been described as enlightening, controversial, humorous, and profound. A crash-course in what you need to know about menopause. The documentary has the potential to be a life-changing experience for women everywhere. The film not only sheds light on the confusion stemming from a decade of misguided facts, but it also conveys poignant personal stories shared by real women along with in-depth interviews with the world's most-noted experts.
"Menopause touches every woman and all families," said the film's co-producer Heidi Houston. "I'm delighted that Fort Lauderdale International Film Festival realizes the significance of our film and the importance of not keeping this subject under wraps any longer," added Houston.
Through careful analysis and investigation, the filmmakers along with the world's leading medical experts have come forward for the first time to set the record straight on the Women's Health Initiative (WHI) study released in 2002. The WHI study misrepresented that the hormonal replacement therapy being used by millions of women to treat the symptoms of menopause could actually increase the risk of heart attacks and cancer. This misinformation caused confusion, hysteria, and fear among women as well as healthcare providers, endangering the health and well-being of millions of women.
Warner Brother's famed blockbuster, "Sex and the City 2" took menopause out of the closet and onto the screen. Hot Flash Havoc goes one step further shedding light on a decade of misguided facts, conveying poignant personal stories and providing the truth about women's options. The film addresses the challenges of making empowering choices in the "Second Act" of a woman's life in an entertaining and enlightening way. It's a hard, fast, funny and compassionate exploration of women in menopause at all ages and stages of life.
What you are about to see is not only a film about menopause that will finally help you understand what it is all about, but also a film that will make you laugh, cry and think. There is no doubt that both men and women will agree that Hot Flash Havoc is one of the most provocative and revealing films ever made about menopause.
For more information on Hot Flash Havoc: (http://www.hotflashhavoc.net)
Watch the Hot Flash Havoc Trailer on You Tube: (http://www.youtube.com/watch?v=Jn8Son9Tm2c)
FORT LAUDERDAL INTERNATIONAL FILM FESTIVAL:
Now in its 25th year, The Fort Lauderdale International Film Festival (FLIFF) will reel out over 200 films from around the globe. Filmmakers and celebrities will attend many of the screenings and events over the 21 day fest, October 22 - November 11. Parties and gatherings at area "hot spots", on board yachts, and on the beach will provide audiences an opportunity to hob knob with film talent and other movie buffs. At the heart of the Fort Lauderdale International Film Festival are the films and the artists that create them.
For more information on the 2010 Fort Lauderdale International Film Festival: (http://www.fliff.com/about.asp)
For Media Inquiries:
Shannon Donnelly
Account Executive
LCO - Levine Communications Office Inc.
1180 S. Beverly Dr. 3rd Fl.
Los Angeles, CA 90035
E. SDonnelly(at)LCOonline(dot)com
T. 310.300.0950 x245
F. 310.300.0951
http://www.LCOonline.com
http://www.twitter.com/LCOonline
# # #