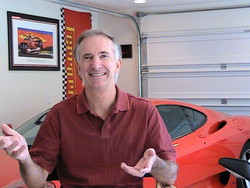 There is plenty of opportunity to buy well below today's already low values if you just know how – I can show you how
Sacramento, CA (PRWEB) November 9, 2010
This week, Dan Haywood sent shock waves through the Real Estate Investing Seminar world by launching what many industry insiders are calling the most cost effective training program online today for those looking to get started investing in Real Estate. "Even though many expensive Real Estate training programs are worth what they charge, I noticed two things missing that I believe needed to be offered." First, Dan noticed very few teachers that still buy and sell Real Estate. Most of them only teach and are not in touch with today's tricky market place. Second, he noted, there seems to be very few low cost programs that would allow nearly anyone with a desire to learn the wonderful world of Real Estate investing. Dan Haywood explains in this recent, exclusive interview: "We didn't have the internet when I started over 25 years ago, so I had to learn the hard way. Now, with my online training videos, folks can watch and learn at their own pace."
During the interview, Haywood goes on to explain, in detail, why everyone should at least be aware of how easy it is to get started buying and selling real estate. "Most people think what I do is difficult, and like any work it can be, but I know for a fact that anyone who really dedicates themselves to learning and doing what I teach in my videos will be successful in the long run."
When asked about the risks involved in the current market place, Haywood brushed them off with his trademark style. "At this point, the values have dropped so low on new and existing homes in some neighborhoods, it would be more expensive to build a new home then it would be to buy one of the same model. The Real Estate market is cyclical, and we're near the bottom, this is the time to start building a portfolio of income producing properties that will be worth far more in the future and perhaps sooner than you think." Haywood noted that there has never been a crash in Real Estate prices that was not followed by large increases in value over time. Haywood has been through 3 Booms and Busts as he explains in his Videos and feels very confident in showing others how he captured a lifetime of income in the last bust when he purchased over 150 properties. He has purchased over 50 properties in the current down market and has sold nearly all of them for large profits. "There is plenty of opportunity to buy well below today's already low values if you just know how – I can show you how".
Bottom line: it was obvious from our talk that Dan feels with all his heart that Real Estate Values are so beat up that even beginners can make good profits if they start learning now. "The window of opportunity will open for a while. This gives regular folks the chance to build some knowledge and get involved to brighten their futures". He breaks it down to a step by step process and teaches you how to earn profits from over 15 strategies he has used over the years. "I don't teach theory, only real methods on real deals! I have 16 deals going right now and my members will learn from every one of them".
The story within the story is because of the Internet, Dan was able to offer a membership to his Training Site for less than the cost of a cup of Starbucks Coffee per day. Access to this type of information in the past cost thousands of dollars. Dan offers it for only $49.97 per month and members can quit if they don't think they are getting much more than they are paying for. Values like this have never been offered in the past.
You can check Dan out at http://www.DanTheRealEstateGuy.com
# # #