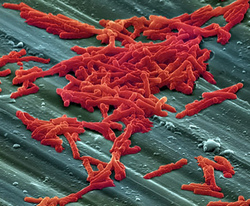 Inhibition of this dangerous pathogen by 90% simply by the use of a safe and easily applied surface coating offers a clear opportunity to improve management of this serious pathogen
Pompano Beach, FL (PRWEB) November 4, 2010
EcoActive Surfaces, Inc. released results today of independent laboratory testing that demonstrates dramatic reduction of life-threatening Clostridium difficile spores on surfaces treated with the advanced transparent surface coating, OxiTitan.
"Infections with virulent C. difficile continues to be a major challenge to the health care system, causing serious health risks to patients and high management costs to hospitals; the spores of this organism are extraordinarily difficult to kill," says Devron Averett, Ph.D., Chief Scientific Officer of EcoActive Surfaces. "These new data show that the use of OxiTitan surface coating reduced recoverable spores of C. difficile by ten-fold after only 24 hours. Inhibition of this dangerous pathogen by 90% simply by the use of a safe and easily applied surface coating offers a clear opportunity to improve management of this serious pathogen."
Clostridium difficile infection (CDI) has emerged as a leading cause of healthcare acquired infection deaths. CDIs have dramatically increased in recent years, with 500,000 cases in the United States annually and approximately 15,000 deaths each year, according to the U.S. Centers for Disease Control & Prevention. Corresponding cost of hospital care for CDI in the US was estimated at $580 million in 2008.
Today's crowded and highly mobile human environment creates multiple opportunities for exposure to dangerous transmittable human viruses, endospores and bacteria. It is important that consumers know that an effective, persistent and safe antimicrobial coating is now available for both interior and exterior use on existing surfaces in a multitude of environments such as healthcare facilities, public spaces, and residences. Dr. Averett went on to say "OxiTitan acts as the 'ever-diligent sentry', reducing microbial contamination all day, every day, and between routine surface cleaning."
The basis for the technology of OxiTitan is a proprietary nanoscale zinc/titanium dioxide sol that can be easily applied to a wide variety of surfaces and textiles. This green technology innovation from EcoActive Surfaces provides a virtually invisible, durable coating with broad spectrum antimicrobial effects based on strong initial electrostatic trapping and subsequent photocatalysed oxidative inactivation in any lighting condition: natural sunlight, interior incandescent, fluorescent, halogen and LED. OxiTitan has previously been shown in multiple independent studies to have antimicrobial effects against multiple pathogens, including multiply resistant Staphylococcus aureus (MRSA), vancomycin resistant enterococcus (VRE), E. coli, and Bacillus. It also was demonstrated to reduce volatile organic compounds (VOCs) such as odor-causing formaldehyde and hydrogen sulfide gases. The transparent coating creates oxygen "free radicals" that deactivate the proteins essential to viruses and bacteria, and chemically destroys VOCs. OxiTitan contains the same small particles of minerals used in the safest sunscreens, has no poisons or toxins, is food safe, and benign in the environment. Because it is a catalyst, there are no chemicals to be used up or leached out, and no risk of microbial resistance.
OxiTitan provides a safe, durable, cost-effective, ecologically friendly, clear, and continuously active antimicrobial surface coating. When used as an adjunct to hand hygiene and routine cleaning, OxiTitan provides a vital and long-lasting component in the battle to reduce the survival of potentially lethal pathogens as demonstrated in this study with C. difficile, and thus help break the nosocomial infection loop.
While the advanced materials science of OxiTitan is complex, its application is simple. The ready-to-use water based formula is simply sprayed onto existing surfaces and textiles and can cost below 7 cents per square foot. More information can be found at the website http://www.oxititan.com, where the technology is described in more detail and provides complete reports of the antimicrobial effects of OxiTitan as demonstrated by independent laboratory testing.
# # #