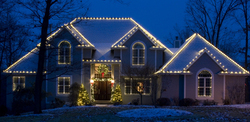 Homeowners are recognizing the benefits of LED lighting. It's eco-friendly, saves on your electric bill, and with today's technology, nothing else matches the beauty of an LED lighting display.
Neptune, NJ (PRWEB) November 5, 2010
Christmas should not be a burden on the environment. With just a little tweaking of our usual holiday traditions, it's easy to have a "green" Christmas. A great start is using environmentally friendly LED Christmas lights. LED lighting requires only a small fraction of the power required to produce the same amount of light as a traditional bulb. With LED lights, your electric bill will make Scrooge smile. LED lights last significantly longer than conventional bulbs and reduce the risk of fire hazards. LED lighting sends a message to your neighbors and community that Christmas can be celebrated in style while still being eco-friendly. Set the standard for Christmas lighting in your neighborhood. When you go green with an LED lighting display, you make your neighbors green as well -- green with envy.
According to Bill Cowley of Christmas Decor by Cowleys, "Our upcoming Christmas season promises to be more environmentally friendly than ever. Holiday celebration goes hand in hand with celebrating the environment. Communities are working hard to recycle the extra tons of holiday wrapping and packaging materials. With tree recycling programs, instead of taking up space in landfills, trees are ground into wood chips and used to mulch gardens or parks or to prevent erosion at local watersheds." Added Cowley, "At Christmas Décor by Cowleys, we're proud to help homes, businesses, and municipalities switch to environmentally-friendly LED lights and make Christmas more eco-friendly. LED Holiday lighting saves money, saves resources, and keeps your family safe. Based on our current orders, many homeowners are choosing 2010 as their year to upgrade and enjoy the benefits of LED lighting."
Said Cowley, "Most people don't get as excited about lights as I do, but the technology of solid-state LED lighting is truly groundbreaking. Thomas Edison himself would have been impressed. These 'light emitting diodes' are constructed from tiny solid-state chips similar to those used in computers and directly convert electricity to light without a filament or glass bulb. The technology just keeps getting better. In the past, there was some criticism that LED lights were not 'twinkly' enough or that they cast a strong blue hue. But that's in the past. LED lights have come a long way. Today's colors are crisp and beautiful including warm white holiday lights that mimic the glow of traditional bulbs. Also, there are now color-changing LEDs that morph between colors to create amazing visual effects." Added Cowley, "Just like everything else, there are differences in quality. There are low-end LED lights carried by the national discount chains and there are commercial-grade flicker-free LED lights offered by specialized holiday lighting companies such as Christmas Decor by Cowleys. These lights, made with weatherproof compression-fitting connectors and heavier wires, have wonderful visibility and richness of color. If you are looking for curb appeal in your holiday decorating and your lighting display is a source of pride, quality does matter."
Why are LED lights setting the standard for holiday decorating?
Energy Savings. LED string lighting uses only 10% of the energy to power standard incandescent light bulbs. Not only does that bring your electricity bill way down, but it lessens your carbon footprint as well. According to the US Department of Energy, if all conventional Christmas lights were replaced by LED lighting, annual energy savings would total two billion kilowatt-hours – enough energy to power nearly 200,000 homes for an entire year.
Resource Savings. LED lighting is more earth-friendly because of its long lifecycle. The LED string lights are rated for 50,000 hours of use or more. At that rate, LED holiday lights will last for 20 years. In comparison, standard incandescent lights typically last for 2,000 hours. LED lights have no filaments to burn out, no bulbs to break and replace. They are encased in a nearly indestructible epoxy casing that can be made into a variety of shapes and sizes from icicles to snowflakes. LED lighting uses standard house current and have zinc-coated lamp contacts. Components will not rust when used outdoors. Since LEDs are encased in sold plastic rather than glass, there is virtually no chance of breakage and with solid-state reliability, should one LED go out the whole string is not ruined.
Safety. LED lights are a safer option for your home. According to the US Fire Administration, Christmas trees account for 250 fires annually, resulting in more than $13.8 million in property damage. LED string lights produce very little heat and remain cool to the touch even after hours of operation.
Who is using LED lighting? More than half the states now use LED lighting for their holiday displays. The national Holiday tree on the Capital lawn in Washington, DC uses LED lights. Since 2007, perhaps the most famous tree of all, the Rockefeller Center Christmas tree, has been ornamented with 30,000 LED lights.
Using LED lighting sends a message to your neighbors and community that Christmas can be celebrated in style while still being Green. And with your pretty and eye-catching outdoor LED lighting display, you'll make your neighbors green as well – green with envy.
For more information or to schedule a meeting with a Professional Holiday and Event Designer, class Christmas Décor by Cowleys at 866-9-COWLEY or visit http://www.christmasdecorbycowleys.com.
###