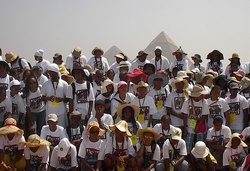 Stockbridge, GA (PRWEB) November 5, 2010
The d'Zert Club and The African Genesis Institute are sponsoring a free, all expense paid, trip to Egypt, North Africa for 1000 students nationwide between the ages of 7 and 14 and 500 adult group leaders.
These travelers will participate in the Annual Teen Summit 1000.
The d'Zert Club is a Philadelphia-based, non-profit travel organization founded in 1997 by the husband and wife team of Ali and Helen Salahuddin. It specializes in coordinating national and international educational field trips for African Americans.
The African Genesis Institute is a proactive, 3 semester, educational and cultural program for African American youth between the ages of 7 and 14 focused on developing an understanding and awareness of the African experience in America. Over this 27-month period students are exposed to their rich and extraordinary ancient African history through bi-monthly classes, seminars and field trips. At the end of the program the students and group leaders sojourn to Egypt for the Teen Summit 1000 where they examine the land of their ancestors and share their culture and lifestyle with African youth. The trip to Egypt is sponsored by the d'Zert Club and is absolutely free to the students and adults serving as the graduation reward for those who complete the program.
General information and enrollment meetings will be held in the cities listed below.
· November 7: 2pm Philadelphia: African American Museum, 701 Arch Street
· November 13: 2pm DC: Doubletree Hotel, 1515 Rhode Island Avenue, NW
· November 14: 2pm Baltimore: Great Blacks in Wax Museum, 1603 E North Ave.
· November 20 9am Newark, NJ: Wisssom Cultural Center, 15 James Street
· November 20: 2pm Harlem: National Black Theater, 125th and Fifth Avenue
· November 21: 2pm Brooklyn: Bed-Sty Restoration Center, 1368 Fulton Street
· December 4: 2pm Atlanta, GA: Ramada Plaza, 1380 Virginia Avenue
Those who do not live in or near these cities can enroll in our online chapter.
Slots will be filled on a first come, first served basis.
Those interested in earning this free trip to the Motherland should call 1-888-257-5991, email africangenesis2(at)aol(dot)com or visit http://www.africangenesis.org
# # #