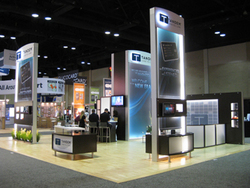 San Diego, CA (Vocus) November 4, 2010
Exponents (http://www.exponents.com), an Insta Worldwide Group Company, and HIFIVE (http://www.hifiveus.com) an Oregon-based exhibit design and marketing agency, have won a prestigious Event Design Magazine silver award for Best All-Modular Exhibit for their client, Tandem Diabetes Care. The winning design debuted at AADE (American Association of Diabetes Educators) 2010 in San Antonio, TX. The award was announced in the October edition of Event Design Magazine. Event Design Awards recognize the industry's best-designed projects.
Bruce Newbury, Exponents' President Sales & Marketing said, "This award is especially important to us because hundreds of entries across 14 categories were judged by an elite panel to determine the best of the best exhibit design for 2010. The sponsoring organization, Event Design magazine, is a highly-respected, industry-leading publication."
The exhibit was a stunning success for Tandem Diabetes Care, a young company in the process of developing a new medical device. Tandem's goal was to create a solid, substantial look on the floor of the show in an effort to introduce their company to one of their primary audiences. This was Tandem's debut trade show to this organization. In addition to the Event Design Award, Tandem was also selected as the company that showed best on the floor at the AADE event and was also featured on NBC News.
Melanie Kuderka, Marketing Communications Manager at Tandem commented, "This is an exciting time for us as we begin to introduce our company to the competitive diabetes marketplace. We are focused on approaching current thinking in ways that will differentiate us in the industry and therefore, we needed an exhibit environment that highlighted our brand personality and commitment to improving the lives of people with diabetes. The outcome exceeded expectations and we are delighted to be a part of this award".
David C. Kelly, President of HIFIVE added, "This project gave us the opportunity to co-develop an elegant look that communicates the essence of the Tandem brand. HIFIVE's expertise, coupled with Exponents' modular-based designs, resulted in a high-end, quality exhibit with unique features, which showcase Tandem's product leadership in the market, while meeting their budget. It captured the attention of many, and was a huge win for all involved".
Complete details are available by calling 1-800-451-4723.
About Exponents:
Exponents is one of North America's most highly respected custom-modular exhibit designers and manufacturers. Thriving on innovation, the company has won numerous awards while helping its clients to achieve their trade show goals for over 28 years. Exponents became an Insta Worldwide Group Company in October 2009. Visit Exponents at http://www.exponents.com
About The Insta Group:
The Insta Group provides global exhibit solutions and offers an extensive range of innovative products and services to help customers achieve their objectives at exhibitions and events around the world. Based in Mumbai, India, the company currently employs 550 people and has operations in 11 countries on 4 continents. Visit the Insta Group at http://www.insta-group.com
About HIFIVE:
HIFIVE is a progressive structural, graphic design and educational media firm. The company provides value-add services to compliment best-of-breed manufacturers for retail display and trade show exhibit environments. Visit http://www.hifiveus.com
###