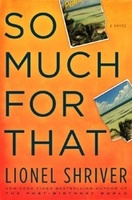 "With a resurgent Republican Party whose battle cry is 'repeal Obamacare,' it is critical that we remind ourselves of the continuing stakes."
New York City (PRWEB) November 5, 2010
Progressive Book Club (http://www.progressivebookclub.com), the on-line liberal literary portal, is pleased to announce that its November PBC Pick is Lionel Shriver's So Much for That, newly selected as a finalist for the National Book Award in Fiction.
Rare is a work of fiction that enlarges our understanding of a central question in American life. Rarer still is the publication of such a timely and relevant book by a writer more celebrated for her brilliance abroad than in her own country – until now.
PBC's editors are thrilled to present So Much for That as the club's latest choice because its compelling prose and engaging characters illuminate the terrible contradictions of American health care – with a surprisingly uplifting story.
"With a resurgent Republican Party whose battle cry is 'repeal Obamacare,' it is critical that we remind ourselves of the continuing stakes," explained PBC's CEO, Elizabeth Wagley
A provocative, darkly comical and moving literary achievement, So Much for That challenges our nation's core assumptions about marriage, family, and the American Dream. With a harrowing storyline and sympathetic characters, Shriver's novel deepens our empathy for those with serious illness facing challenges of the failing economy and health-care system.
New York Times critic Michiko Kakutani applauds So Much for That as a "visceral and deeply affecting story… about how illness affects people's relationships, and how their efforts to grapple with mortality reshape the arcs of their lives…. (Shriver's) understanding of her people is so intimate, so unsentimental…it lofts these characters permanently into the reader's imagination."
So Much For That is the 29th PBC Pick for Progressive Book Club since the club's launch in June 2008. Other selections have included The Backlash by Will Bunch, Food Matters by Mark Bittman, Netherland, by Joseph O'Neil, The Big Short, by Michael Lewis, The Way of the World by Ron Suskind, The Green Collar Economy by Van Jones, The Power of Progress John Podesta, Zeitoun by Dave Eggers, True Compass, By Edward M. Kennedy, Our Choice by Al Gore, The Girl with the Dragon Tattoo, by Stieg Larsson, and The Lacuna by Barbara Kingsolver.
About Progressive Book Club
Progressive Book Club finds and promotes books that can change America, harnessing the power of the Internet to create an important new platform for progressive authors and ideas. PBC members buy selected books at significant discounts, while designating a portion of every purchase for organizations and issues to which they are most committed. Combining sales with exclusive online feature content, Progressive Book Club is a new and vibrant forum that has transformed the traditional book club model.
# # #