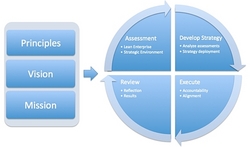 The Lean Enterprise Strategy Kit is designed to support the strategic planning needs of smaller organizations
Morro Bay, CA (PRWEB) November 4, 2010
Factory Strategies Group has released their new Lean Enterprise Strategy Kit to support the strategic planning efforts at organizations and smaller companies. The Kit brings together the best of traditional SWOT/PEST-based strategic planning with the core principles of lean manufacturing and lean enterprise style hoshin planning and policy deployment.
The Lean Enterprise Strategy Kit includes a series of training presentations, worksheets, tools, and forms to guide the user through the entire strategy planning and execution process. The process begins with the development of a core set of business principles and values, which are then translated into vision and mission statements. A pair of assessments are then performed, including a 40-topic in-depth Lean Enterprise Assessments and a traditional Strategic Environment Assessment.
The results of those assessments are used to create a series of potential strategies. Using hoshin kanri methods, including the catch-ball process, those strategies are narrowed down to a tightly-linked group of long term objectives, three-year breakthrough objectives, and annual improvement programs. The Kit then helps the user create alignment and execution methods using lean tools such as daily meetings, accountability boards, and gemba walks. As a final step hansei reflection is used to review the results and begin the continuous improvement process.
"The Lean Enterprise Strategy Kit is designed to support the strategic planning needs of smaller organizations," says Kevin Meyer, President of Factory Strategies Group LLC. "We often come across organizations with considerable potential but a lack of strategic focus, and we're hoping this new Kit will help them achieve the next level of business success."
The Lean Enterprise Strategy Kit is available on the Superfactory.com website.
# # #