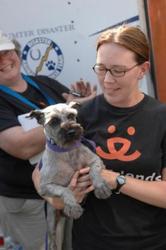 The passage of Proposition B is testimony to all the hard work put in by animal welfare groups to bring these very real issues to the attention of the voters
Studio City, CA (Vocus) November 4, 2010
The historic passage of Missouri's Proposition B, the Puppy Mill Cruelty Prevention Act, signals a new day for canines in the state's many large-scale commercial breeding operations. It also may indicate that Americans are becoming more aware of the plight of puppy mill dogs living in poor conditions in many other states.
"The passage of Proposition B is testimony to all the hard work put in by animal welfare groups to bring these very real issues to the attention of the voters," said Gregory Castle, chief executive officer of Best Friends Animal Society. "Best Friends is proud to have been a partner in moving this measure forward as a member of Missourians for the Protection of Dogs / Yes! on Prop B, which has proven to be an exceptionally effective coalition of local and national animal welfare organizations."
Approximately 40 percent of all dogs supplied to pet stores in the United States are produced in Missouri, which is the reason animal welfare groups joined with citizens to promote Proposition B.
"Prop B hopefully will begin to address what we feel is a national problem," Castle said. "Thousands of puppy mill dogs across the United States end up in overcrowded, taxpayer-subsidized shelters, displacing dogs that otherwise might be adopted into homes. Puppy mill dogs make up a large part of the 4-5 million pets that die each year in American shelters."
Passing 51 percent to 48.5 percent, the citizen-sponsored Proposition B will add to existing laws regulating dog breeders in Missouri (taking effect Nov. 2, 2011), including the following requirements for high-volume breeders:

Have no more than 50 breeding dogs.
Dogs must be examined at least once a year by a veterinarian.
They must have constant, unrestricted access indoors and outdoors.
Enclosures for the dogs must be of sufficient size, that includes space ranging from 12 to 30 square feet depending on the size of the dog.
Enclosures must have cement flooring and no wire floors.
All enclosures must be cleaned at least once a day.
"If a measure like this can pass in a state like Missouri, where there are a very large number of commercial breeding operations, then perhaps there is hope for us to enact improvements in other states where dogs still suffer in horrible conditions," said Elizabeth Oreck, national manager for Best Friends Puppies Aren't Products® campaign. "As long as people feel they can make money off breeding animals, there will be a tendency to cut corners on quality of care provided for the animals. We will continue our work and will not rest until many of the awful conditions that still exist in many states can be changed."
Oreck said the coalition will stay together to, among other things, coordinate a network of rescue groups to take care of dogs who might be relinquished because of new limits on dogs allowed in commercial facilities.
"Best Friends will continue its work to eradicate puppy mills, which supply puppies to pet stores across the country, as well as continue our long-term goal of finding a loving home for every dog who needs one," Oreck said. Our mission is to bring about a time when there are No More Homeless Pets®, and the passage of Prop B will help us get there."
With approximately 3,000 breeding facilities pumping out hundreds of thousands of puppies a year for the pet trade, Missouri has long been known as the puppy mill capital of the U.S. The majority of Missourians love their dogs and they saw this as an opportunity to take action and remove this black eye from their state's image. Advocates circulating petitions to get Prop. B on the ballot this spring collected more than 190,000 signatures from Missouri residents, almost twice the number needed to get the measure on the ballot.
Best Friends supported the passage of Prop B through member messaging, rallying Missouri volunteers, fundraising for passage of the measure, posting information and updates on the website and sending Puppies Aren't Products® staff to attend rallies canvass neighborhoods, and work the polls on election day. Best Friends is also one of the five primary coalition partners (along with HSUS, ASPCA, Humane Society of Missouri, and the Missouri Alliance for Animal Legislation) who sponsored the measure and guided it through its passage.
About Puppies Aren't Products
Best Friends Animal Society's Puppies Aren't Products® campaign educates consumers about where many pet stores get their pet inventory—factory-like commercial breeding operation where puppies and breeding parents are forced to live in squalid conditions, with little or no medical care. Although puppy mills are legal in the United States, many such breeders are not licensed and do not follow even the minimum standards of care for their dogs, who are usually confined in tiny wire cages.
About Best Friends Animal Society
Best Friends Animal Society is a nonprofit organization building no-kill programs and partnerships that will bring about a day when there are No More Homeless Pets. The society's leading initiatives in animal care and community programs are coordinated from its Kanab, Utah, headquarters, the country's largest no-kill sanctuary. This work is made possible through grassroots network of supporters and community partners across the nation.
For more information:
John Polis
435-644-4858
johnp(at)bestfriends(dot)org
Temma Martin
801-953-8876
temmam(at)bestfriends.org
ATTENTION MEDIA COVERING PROP B:
For an interview with Best Friends Animal Society on the ramifications of Prop B and what this means to animal welfare Missouri and throughout the United States, please contact Best Friends Animal Society: John Polis, 435-644-4858 or Temma Martin, 801-953-8876.
###