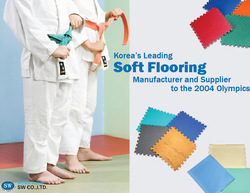 Plus, EVA is a great alternative to other flooring materials because of its eco-friendly characteristics and sustainability.
New York, NY (Vocus) November 4, 2010
Sponge Works, a leading Korean manufacturer and supplier of premium soft flooring, is launching its cutting-edge product line of innovative flooring to the U.S. market. Previously chosen as the flooring supplier to the 2004 Olympics in Athens, the 14th Asian Games, the 22nd Universiade, the 5th World Junior Taekwondo Championship, and other international championships and games events for its affordable, eco-friendly, scratch-proof and stain-proof flooring, Sponge Works is now offering these pioneering flooring solutions to buyers in the U.S.
"Sponge Works' innovative technology prevents mats from scratching and staining, which makes our products unique from our competitors," says Mr. Ko, C.E.O. of Sponge Works. "Plus, EVA is a great alternative to other flooring materials because of its eco-friendly characteristics and sustainability."
Many manufacturers are now turning to recycled materials to address consumer concerns about environmentally friendly products. But, Sponge Works is the only soft flooring products manufacturer that makes all products with eco-friendly EVA (Ethylene-Vinyl Acetate), which provides low-temperature toughness for stress-crack resistance, hot-melt adhesive waterproof properties, and resistance to UV radiation. The material also adapts to various widths to handle heavy weight.
Soft flooring rubber and sponge mats are gradually replacing hard flooring products because of their affordability and the benefit of extra insulation proven to reduce noise and prevent injury. "Hardwood flooring is expensive. Moreover the wood loses its shine over time … sometimes the hardwood flooring becomes slippery and dangerous to walk on in socks," says John Gibb, EzineArticles.
Sponge Works' shock absorption, noise absorption and slip-resistant qualities make the flooring ideal for use in schools, gyms, daycare centers and retirement facilities. The extra insulation from these anti-fatigue mats is proven to prevent joint and brain injuries that might occur from falling and playing and musculoskeletal system disorders. According the University of Michigan's Human Engineering Center, anti-fatigue mats can prevent accumulated fatigue and muscle or blood vessel damage in the lower body by up to 50%. Plus, the flooring is extremely easy to install, care for and clean. Anti-bacterial technology prevents germs from spreading, which is an ideal benefit for high traffic rooms and buildings.
The floors mats are also ideal for residential spaces because of their heat retention and insulation capabilities and inter-floor noise preventing technology. "Not only do these soft flooring tiles provide cushioning protection for your children, your floors, or your tired feet, but they are ideal anywhere a comfortable floor is needed," says Tony Zovko, Expert Author.
Sponge Works is ISO (International Organization of Standardization) 9002 certified and was awarded "INNO-BIZ" company by the Korean government for its highly innovative products. Sponge Works is dedicated to providing consumers with toxin-free, anti-microbial, and highly absorbent products for use by rubber/sponge floor distributors, fitness clubs, gyms, school and daycare centers, retirement facilities, construction companies, and more.
MZI Global is a market entry strategy consultancy firm based in New York City serving international inbound clients entering North America and outbound US companies expanding to global markets. MZI Global¹s Ethnosynergism® network of relationships includes local and foreign governments across 10 + cultures and languages with 1000+ companies. From strategy to implementation, MZI Global is a ³deal maker² focusing on cost-effective market entry on a global scale. MZI Global¹s clients include public sectors and foreign governments representing some of the leading economies in the world, including ECO - GREEN Asian suppliers across 17 industries such as; cosmetics and beauty supply, food and beverage, furnishings, technology and more.
Through a central contact point, MZI Global enables the U.S. supply chain to deal with one resource who understands U.S. corporate needs, while introducing innovative products from international markets like Korea and Asia. With full support of the SBC Korean exporting agency and its trade association, South Korean companies are becoming trusted partners for U.S. buyers. Hundreds of new South Korean products can be sourced via the MZI Global network. MZI Global is the ultimate resource for South Korean products. Under the leadership of president and CEO Mira Zivkovich, recipient of the 2007 Ellis Island Medal of Honor, MZI Global puts its international, multicultural marketing expertise to use through strategy development and implementation for US ethnic markets. Learn more at http://www.mziglobal.com.
###