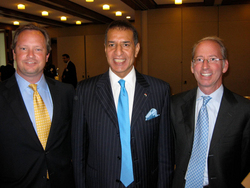 Annapolis, Maryland (PRWEB) November 4, 2010
Chairman and CEO John White and Senior Vice President, International Chip DiPaula will attend the largest ever U.S. Foreign Trade Mission which will be held in Mumbai and New Delhi, India November 6-9.
U.S. President Barack Obama will keynote the Conference which is sponsored by the U.S.-India Business Council, U.S. Department of Commerce, Confederation of Indian Industry (CII), and the Federation of India Chambers of Commerce & Industry (FICCI). The conference will include 250 U.S. chief executives and senior corporate officials.
President Obama is only the sixth U.S. President to visit India, and the first to travel there during his first term. Other conference attendees include Secretary of Commerce Gary Locke, U.S. Secretary of Treasury Timothy Geithner and Senior Indian Cabinet Ministers.
Compass Marketing will showcase its powerful portfolio of global brands to promote bilateral trade, support American jobs and insure economic growth between the world's two largest free-market economies.
Compass Marketing provides strategic direction to many of America's top consumer products manufacturers to create and manage sales opportunities within new or expanded markets and retail channels with goals to:

Maximize sales
Protect and increase U.S. employment
Maintain America's competitive standing in the global economy
Collectively, Compass clients have annual sales that exceed $280 billion, provide more than 450,000 jobs, with their products sold in 200+ countries spanning the globe.
Compass Marketing provides turnkey service that is unparalleled in the industry with senior level partnerships utilizing the resources of the U.S. and Indian governments, industry advocates and major trade organizations.
By harnessing this 'portfolio leverage' of clients and outside resources, Compass is able to provide greater market access, share best practices and research, coordinate advocacy, and deliver more efficient market entry and distribution solutions.
India Snapshot:
India is a country of 1.2 billion people with 50% of its population under age 25
4th largest economy in the world (measured in terms of purchasing power parity)

8th largest retail market in the world
$24 billion consumer packaged-goods industry is growing at 12% a year
India is in the process of a $1.7 trillion infrastructure build-out
$450-billion retail sector growing up to 30% annually, with organized retail accounting for just 5% (U.S. 85%)

Retail sector is 2nd largest employer after agriculture
12 million+ estimated retail outlets, mostly family owned
The U.S. is India's 3rd largest trading partner
Two way trade between the two countries exceeds $50 billion.
# # #