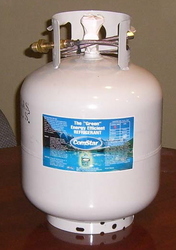 Kaneohe, Hawaii (PRWEB) November 9, 2010
Energy-hogging refrigerators will soon have to step aside and face retirement, as the first-ever Green Household refrigerator, running on an all natural climate-friendly and energy-efficient refrigerant, will be produced in limited quantities in the USA beginning this fall. The world of cooling may never be the same.
Called the "188," this green refrigerator is the first product to tap the revolutionary improvement in cooling technology offered by the climate-friendly hydrocarbon refrigerant termed HCR188C1, developed by Hawaii businessman and inventor, Richard Maruya, of A.S. Trust & Holdings.
The ground-breaking refrigerant, a unique blend of pure hydrocarbons, has been certified by Intertek (an independent testing laboratory), as having a stunning zero Global Warming Potential (GWP) as well as a zero Ozone Depletion Potential, and is the first hydrocarbon refrigerant approved by the U.S. Environmental Protection Agency (EPA) for sale in the USA. It is the only refrigerant formula in the world to achieve these ratings and has been designed to replace the hydrofluorocarbon (HFC) refrigerant R-134, which is known to cause global warming and is the current replacement for Freon®, R-12 & R-22. The American Society of Heating, Refrigeration and Air-Conditioning Engineers (ASHRAE) expects to officially announce the designation of this refrigerant as R-441A at its annual meeting in January 2011.
A.S. Trust & Holdings is finalizing energy reduction efforts on the "188," a standard 21-cu-ft home refrigerator freezer, and will be submitting it for Department of Energy (DOE) Energy Star ratings. Current results show that the required refrigerant-charge amount of HCR188C1 is approximately 25% the amount of R-134 by volume, just 37 grams. Upon completion of the energy reduction program, Maruya will be arranging for assembly of the refrigerator in the United States, under the Climate Friendly 188 brand, noting, "We are proud to say that producing this energy-efficient refrigerator will keep Americans employed."
Maruya has been working on this refrigerant for more than fifteen years and holds U.S. and worldwide patents. The HCR188C1 formulation is a listed refrigerant with Intertek (ETL).
Future products bearing the new Climate Friendly 188 energy-savings label will include household window air-conditioning units. Appliance distributors and dealers interested in becoming part of the 188 refrigerator distribution chain and/or parties interested in purchasing HCR188C1 refrigerant from A.S. Trust should contact Richard Maruya at 808-235-1890 (email: richard(at)astrust(dot)com) or ComStar International Inc. at 800-328-0142 or 718-445-7900 (email: customerservice(at)comstarproducts(dot)com).
About A.S. Trust & Holdings, Inc.
A.S. Trust & Holdings has spent more than a decade developing hydrocarbon combinations for new refrigerant fluids that are based on purely green chemistry, friendly to the climate and also energy efficient. HCR188C1 is a groundbreaking technological advancement capable of revamping entire industries where coolant/refrigerants are in common use. Target applications include cooling systems such as those found in consumer (home) air-conditioning systems, commercial/industrial air-conditioning systems, automotive/vehicle air conditioners, refrigerators, freezers and beverage-vending machines. In many cases the refrigerant can be used as a drop-in replacement without reengineering the equipment. A.S. Trust & Holdings is registered in Saipan, part of the United States Commonwealth of the Northern Mariana Islands, with its U.S. headquarters in the State of Hawaii. The Company began operations in 1998 and filed its first patent in 2000. Website: http://www.HCR188C.com
# # #