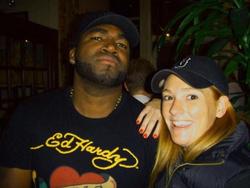 Phanoto relies on its fan base to use the service in a creative and fun way. The fans ultimately determine the fun factor of the service. They use Phanoto to define the fan culture of their favorite teams, offering new insight into the world of sport.
Chelmsford, MA (PRWEB) November 16, 2010
Phanoto.com launched today as a service to deliver event-based social networks for sporting events. Phanoto, derived from the phrase, "Fan Photo", offers Smart-phone applications for the iPhone(R), Android(R) and Blackberry(R) devices enabling fans at the game to share photos and comments. For the rest of us watching the game from home, Phanoto.com augments the viewing experience by delivering a real-time and interactive feed of photos and comments from fans at the game.

Phanoto leverages the Smart-phone revolution to deliver real-time, event-based social networks for sports fans.
Phanoto currently supports professional baseball, football, hockey and basketball leagues. In addition, Phanoto will be rolling out support for professional soccer, and collegiate sports in the upcoming month.
Fans connect to the live feed on the day of the game by checking-in to the event through the Website or via the mobile app. Photos, comments and chat are then associated with the game they checked-in to.
To encourage competition, fans can nominate their photos for prestigious photo categories including, "Super Phans", "Drunk Phans", "Sexy Phans", and "Sport Celebs and Me". The nominated photos are then voted on by fans, and showcased on the Website.
Phanoto is integrated with the social networking bigs, so a fan using the Phanoto service can opt-in to publish check-ins, photos and comments as status updates on Facebook(R) and/or Twitter(R).
Phanoto offers a widget that can be integrated on any website to display the most recent photos taken from the game. http://www.phanoto.com/ws_gallery_generator.php
In the near future, Phanoto will integrate new features to engage fans at the game with polls and sponsored games to win stuff, like a free beer after the game at a local sports bar.
In the emerging industry of mobilized social networking services, Phanoto delivers unique, event-based social networks for the world of sport.
###