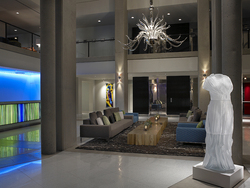 Since we made the list last year and we consider ourselves a relatively small hotel in a non-major metropolitan market, we are beside ourselves with pride
Tacoma, WA (Vocus) November 4, 2010
Condé Nast Traveler Magazine announced its Reader's Choice list for 2010 - the Top 100 Hotels voted by the general public naming Hotel Murano as the only Tacoma hotel to make this year's Reader's Choice list at the eighth position in the United States and the 78th in the world
"Since we made the list last year and we consider ourselves a relatively small hotel in a non-major metropolitan market, we are beside ourselves with pride," said Bashar Wali, President of Provenance Hotels. "The hotel is a beautiful and unique in its glass art focusl but the customer service is what got us this award."
For the second year since its inception, the Hotel Murano has made this list twice: 2009 and 2010. It has made a name for itself locally, regionally and internationally with its glass art from all over the world, high-caliber of design, attention to friendly and unpretentious service with unique amenities, such as its Pillow and Spiritual Menus.
The Hotel Murano – downtown Tacoma hotel – is located in the center of downtown with close proximity to the Museum of Glass, the Tacoma Art Museum, the city's waterfront and downtown businesses.
More than 45 artists from around the world are showcased in the hotel from the exterior to the lobby and guest rooms making every step in the hotel an artful journey. As its intent, the Murano educates and inspires guests with its pool of international talent and individual story of each artist.
On every guest room floor, the visitor is greeted with a highlighted artist, his or her story and a final masterpiece. A walk down the corridor and into the guest rooms relays the inspiration and process for the featured piece of art. The most creative and innovative glass artists were handpicked for the hotel from the very established to the burgeoning talent, including: Rick Beck (U.S.), Martin Blank (U.S.), Peter Bremers (Holland), Lucio Bubacco (Murano, Italy), Anna Carlgren (Sweden), Dale Chihuly (U.S.), Cobi Cockburn (Australia), Steffen Dam (Demark), Maurizio Donzelli (Italy), Miriam de Fiore (Italy), Alberto Gambale (Italy), Susan Taylor Glasgow (U.S.), Allison Kinnaird (Scotland), Steve Klein (U.S.), Karen LaMonte (Czech Republic), Dante Marioni (U.S.), Massimo Micheluzzi (Murano, Italy), Tobias Mohl (Denmark), Andrea Morucchio (Murano, Italy), William Morris (U.S.), Catherine Newell (U.S.), Masayo Odahashi (Japan), Pat Owens (U.S.), Flo Perkins (U.S.), Peter Powning (Canada), Narcissus Quagliata (Mexico), Orfeo Quagliata (Mexico), Seth Randal (U.S.), Ross Richmond (U.S.), Bruno Romanelli (Italy), Davide Salvadore (Murano, Italy), Deborah Sandersley (U.K.), Preston Singletary (U.S.), Vibeke Skov (Denmark), April Surgent (Australia), Cappy Thompson (U.S.), Jessica Townsend (U.K.), Bertil Vallien (Sweden), Costas Varotsos (Greece), Janice Vitkovsky (Australia), Janusz Walentynowicz (Poland), Richard Whiteley (Australia), Hiroshi Yamano (Japan), Brent Kee Young (U.S.), Dana Zamecnikova (Czech Republic) and Toots Zynsky (U.S.).
About Hotel Murano
Like its sister hotel in Portland, Ore., the Hotel Lucia (Travel + Leisure's Top 500 Hotels in the World and Condé Nast Traveler's Top 100 Hotels in the World) or the Hotel deLuxe (Condé Nast Traveler's Hot List and Top 100 Hotels in the World) in Portland, Ore., the Hotel Murano (1320 Broadway Plaza, Tacoma, Wash., 98402 – 253.238.8000) is unique in the Northwest with its art-inspired design and magnified focus on personal guest services. In addition to the Hotel Lucia and the Hotel deLuxe, the Hotel Murano's family (http://www.provenancehotels.com) also includes the Hotel Max in Seattle, Wash., opened in October of 2005 and the Hotel Preston in Nashville, Tenn., opened in March of 2004. Also, visit http://www.murano.com for updates or follow on twitter at http://www.twitter.com/hotel_murano.
# # #