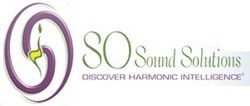 We are thrilled to have the opportunity to share this deep relaxation experience with people in our community
Louisville, CO (PRWEB) November 5, 2010
A product by Colorado-based So Sound Solutions LLC will be a featured installation in this week's episode of the long-running ABC network program Extreme Makeover: Home Edition.
The Marshall-Spreiers family of Pocatello, Idaho will be featured on the ABC television network program on Sunday, November 7, 2010, according to advance production releases.
Jane Marshall, a single mother with nine children, braved a courageous battle with breast cancer two years ago. During her recovery, a faulty dryer vent resulted in a fire that destroyed the family home. The house was left uninhabitable and Jane was forced to use her insurance money to seek out alternative living arrangements. They are doing everything they can to stay positive despite half the family living in a one-bedroom cottage and the other half living in friend's motor home. Even during these difficult times, Jane set a strong example for her children, encouraging then to laugh, play and not give up on life.
Alleviation of the stress and pain of cancer is the reason the bed by So Sound Solutions was chosen for Jane Marshall's use in her new home.
The Touch by So Sound™ is a bed that uses the sound-waves generated by music to provide a quiet and gentle sound-wave massage that can felt throughout the whole body to provide relaxation and deeper, regenerative sleep. So Sound Solution's technology is based on the theories of music therapy and massage therapy which has been proven to increase circulation and oxygenation, free lactic acid and toxins, soothe and warm muscles and soft tissues, help in recovery from injuries and relieve mental and emotional stress to promote feelings of well being.
Originally designed to address sleep disorders such as insomnia and the need for relaxation from the physical effects of stress, the designers of The Touch by So Sound™ have received some unexpected anecdotal results from consumer use of their product. Consumers have reported the alleviation of symptoms of Post-Traumatic Stress Disorder (PTSD), autism, chronic pain and other physical concerns.
"State-of-the-art acoustic resonators transmit sound waves through any surface in which they are embedded and a proprietary amplifier, designed to work with almost any musical source, delivers deep, resonating tones and harmonies that create a physically relaxing experience," explains co-founder Barry Oser.
These components have been installed in a bed which is manufactured and distributed by Denver Mattress Company. The bed is featured in spas and educational facilities throughout the country including The Monroe Institute in Faber, Virginia; Auberge-Solange Calistoga in Sea Island, Georgia; The Broadmoor in Colorado Springs. The technology can also be experienced in a suspended wood floor in the yoga-Pilates studio at the YMCA of Boulder Valley; specially outfitted treatment tables of regional chiropractors, massage therapist and other complementary health practitioners; and, lounge chairs manufactured and sold at So Sound Solutions facility.
The company will open a studio in Old Town Louisville, Colorado in mid-January 2011. "We are thrilled to have the opportunity to share this deep relaxation experience with people in our community. Our Louisville studio will feature a resonating SO Floor for yoga, Pilates, story-times for children, and music/dance performance, "offered Suzannah Long, co-founder of So Sound Solutions, LLC.
About SO Sound Solutions:
So Sound Solutions LLC is a healthy-lifestyle company that designs beautiful, safe and comfortable acoustic relaxation products and programs and a pioneer in the development of tactile sound-based experience modalities. To learn more, visit http://www.sosoundsolutions.com
###