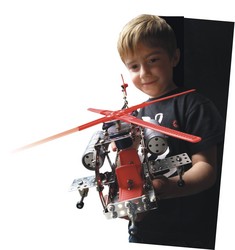 Redmond, WA (Vocus) November 4, 2010
Eitech America, the exclusive U.S. distributor for Eitech, the German manufacturer of steel construction and building sets; today announces the launch of their U.S. website featuring extended product information and an online store.
Eitechamerica.com will feature the Eitech steel construction and building set product line, as well as the Teifoc brick construction and building set product line. Teifoc is the new brick and mortar construction set that has redefined building systems in the U.S. toy and hobby market for 2010. The re-introduction of Teifoc to the American market was announced in an Eitech official press release on Tuesday, Nov 2.
This user-friendly website features retailers by region, product news and updates and a full detailed listing of both Eitech and Teifoc products. An Eitech store designed especially for Eitech and Teifoc consumers will be launched in December.
Built on the success of Eitech's steel construction sets and created with education and learning in mind, the website will be a wonderful asset to Eitech America coming into the holiday 2010 season.
The Eitech store will be available for consumers to purchase Eitech products online at http://www.eitechamerica.com in early December 2010.
Teifoc and Eitech toys are manufactured and engineered in Germany and made exclusively by Eitech, the leading European steel construction and building set manufacturer.
# # #